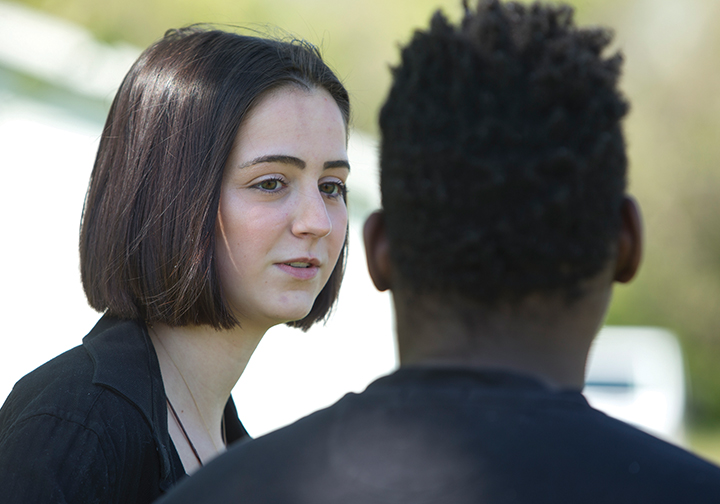 by Joe Bollig
joe.bollig@theleaven.org
LAWRENCE — How could the day be any better? Teenagers and college students were setting up volleyball nets, playing catch and just "chilling" together under a clear blue sky on a spring morning.
It was a relaxed and amiable day on April 29 at O'Connell Children's Shelter Ranch on the eastern side of Lawrence.
Some 25 students from the St. Lawrence Catholic Campus Center at the University of Kansas spent a half day in fellowship and activities with 30 young residents, ages 13 to 18, at O'Connell.
The agenda was nothing more than that: fun and friendship.
"It is really a magical experience, seeing the young people interact," said Gina Meier-Hummel, O'Connell executive director. "The kids who we serve so often feel alone.
"They don't have anyone outside of [the staff] who work with them day in and out and spend extra time with them. Many of them aren't connected to family anymore, don't have anyone to visit and are disconnected from friends. The time the college students come to hang out with them is important . . . to let them know other people truly care about them."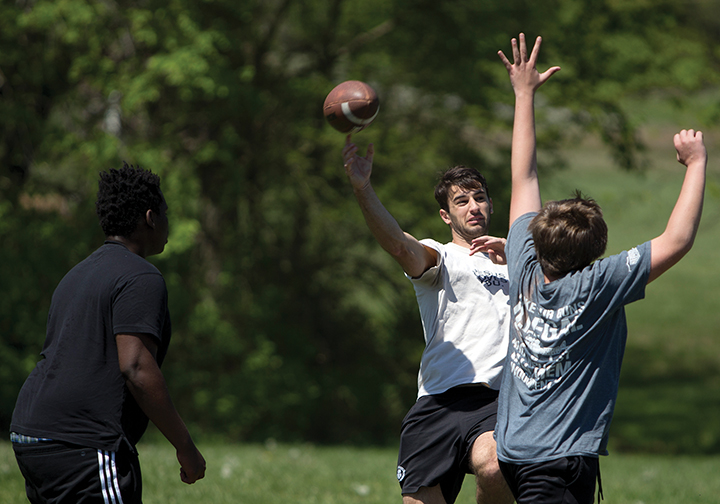 One of those was 14-year-old Noah, who had only been at O'Connell for more than a month.
"It's pretty fun," said Noah (not his real name). He never expected, he said, to be playing volleyball with college kids — not least of which because he didn't even play the sport!
But he joined right in, and when he saw there were fewer people at the second, more distant net, Noah went there. He found the KU students to be relatable and fun.
"They're adults, but they're not adults, if you get what I'm saying," he said.
The big picture
In Kansas there were 6,261 youths in foster care in 2022 according to the website at: foster carecapacity.com. The total number of licensed foster homes in Kansas was 2,289. Other children were placed with relatives, nonrelatives or in congregant care.
There are many reasons why children end up in foster care, according to the Kansas Department for Children and Families. The two broad categories are abuse and neglect — neglect including the death or incarceration of a parent, parental substance abuse, caretaker inability, and a child's behavior or disability.
The children who are placed in residential care, hospital care or higher-acuity care have some highly significant needs, according to Meier-Hummel. Children are better off in families, so that's why O'Connell also works with foster and adoptive families, and assists struggling families.
"Yes, there is definitely a shortage of adoptive and foster families," she said. "Because of that, the young people experience multiple placements, young people who have some trauma history . . . have difficulty coping and a lot of them end up in residential care."
It's important to remember that foster children, despite what they've experienced, are "regular" kids who want and need the same things as do all children, said Michelle Roesner, a KU senior majoring in French and anthropology.
"I think that the kids have had various difficulties they've been through, traumas, honestly like anyone else," said Roesner.
"It's just that their traumas are to a different level and magnitude. After hanging out with them for an extended period of time, I've come to realize they're kids like anyone else," she continued. "They just want to have fun and be seen, to play and have help with their homework, and be with people they want to be like. That's what's cool about this event — it gives them the space to actually do that."
Roesner has been a college coach — a sort of mentor — to 16-year-old Archie (not his real name) for about a month. As a college coach, she helps Archie with his homework, gives him a peek into college life, socializes and "appreciates him for who he is."
"It's actually amazing for the college students to come here and have fun and hang out with the kids," said Archie. "It's really exciting for me."
Reaching out and caring
Last year, a young man who lived at O'Connell until he reached adulthood enrolled at the University of Kansas.
Usually, parents are involved in freshman orientation. Instead, he was assisted by a KU student named Grace, a member of the St. Lawrence Catholic Campus Center who was also his college coach during the young man's time at O'Connell.
"We saw how much this young man who graduated [from O'Connell] enjoyed being around someone who was younger; that's when [Gina Meier- Hummel] said, 'Let's connect with the St. Lawrence Center so the kids here can connect with some KU students, especially people of faith.' Most of the kids here don't have siblings," said Jim Clark, a bridging (into adulthood) specialist at O'Connell.
O'Connell's liaison with the St. Lawrence Center is Allisyn Petty, director of GoodCo, or "Good Company," an evangelization ministry at the center. Students who participate in GoodCo go to O'Connell.
These monthly meetups have happened since September 2022. Most of the events have been at O'Connell, but they've also arranged for the O'Connell youths to visit the KU campus and the St. Lawrence Center.
"It gives the students an opportunity to get off campus," said Petty, "to engage with other people and get a different perspective, and also an opportunity for our students to just have fun,
"For the [O'Connell youths], they don't have many people older than them interacting with them besides the staff. It gives them an example to be with average college students and see what college could be for them."
Abbey Arrington, a junior studying elementary education at KU, was participating in her first visit to O'Connell. She played volleyball and talked with the youths.
"It was interesting to meet the different kinds of kids," she said. "They had a lot of opinions and were proactive in sharing with me.
"We talked about religion. One [boy] asked about the difference between Christianity and paganism. He said Christianity had been forced on him when he was younger, so his opinion came from that. We had a lot of fun comparing the two. We talked about volleyball and cheered each other on."
The St. Lawrence Center's interaction with O'Connell is one way ministries of the archdiocese are trying to answer Archbishop Joseph F. Naumann's call for archdiocesan Catholics to support families and children in foster care as a dimension of pro-life ministry.
"The Church is called to be an important part of the solution for these children," he wrote in a column in the May 7, 2021, issue of The Leaven. "The Gospel summons all Catholics to engage in the corporal works of mercy. Foster parents literally give food to the hungry, drink to the thirsty, shelter for the homeless and care for the poor.
"Not every family is called to be a foster family. . . . However, if only 2% of Catholic families became foster homes, we could make a huge difference in the lives of children in Kansas."