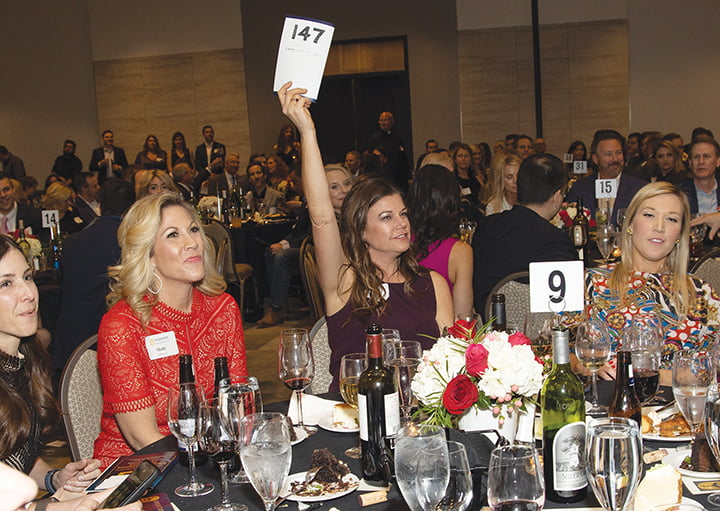 by Jan Dixon
Special to The Leaven
LEAWOOD — Church of the Nativity here, like most parishes, relies on its business partners for financial and in-kind donations throughout the year.
In addition to monetary support, parishioner-owned businesses also provide items for auctions, prizes and food for special events.
Nativity's very successful "Knights Under the Star" dinner and auction held in February is the parish's largest fundraiser. The proceeds are used for scholarships, capital repairs and improvements across the parish campus.
The dinner portion of the evening, a "Taste of Nativity," features food from seven parishioner-owned restaurants.
"'Taste of Nativity' is unique to Nativity," said Father Mike Hawken, pastor. "We are blessed to have parishioners who own some very popular restaurants that serve amazing food."
Although a lot about living in coronavirus time is still unknown, one thing is for sure: Small businesses, especially restaurants, are being hit hard.
For YaYa's Euro Bistro, one of Nativity's many partners, takeout has become its lifeline.
"For the past 26 years, we have been primarily 'dine-in,'" said Pat Khoury, a Nativity parishioner and president of PB&J Restaurants. "Due to the "stay at home" order, we have done a complete 180 to be totally curbside carryout."
Fiorella's Jack Stack, another parish partner, has created a drive-thru and delivery setup at each location to help its business.
"The important thing to remember," said Case Dorman, owner of Jack Stack, "is everybody in this industry is having to adjust and adapt to a lot of ongoing changes."
Both Khoury and Dorman agree that their biggest challenge is taking care of their teams and their patrons.
"All of our business partners truly care about people." said Joyce Didde, Nativity parishioner and auction catering chairperson. "Even now, they continue to show their kindness by making food donations and keeping their focus on what matters most: helping others."
And many Nativity parishioners now consider it their turn to repay the kindness of those who have given so much in the past.
"Our parish family is happy to support these parishioner-owned businesses and their staff during this time," said Kelly Samuelson, parish stewardship and school marketing coordinator for Church of the Nativity.
A complete list of these restaurants can be found in the parish bulletin and on the website. Word is also getting out through emails, social media and through parish ministry groups.
"I've had many people tell me that they are choosing one restaurant per week to pass around the support," said Samuelson.
In these challenging times, the restaurant owners have found that every little bit helps.
And Church of the Nativity is doing its part.
"As these restaurants have been a blessing to us, we want to be a blessing for them," said Father Hawken.