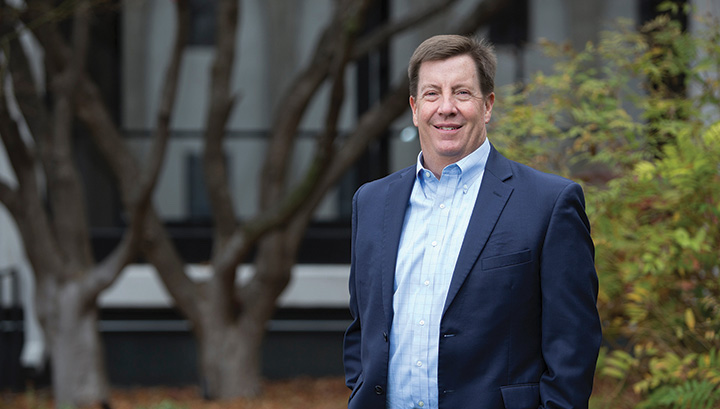 by Bill Maloney
Without a doubt, fall is my favorite time of year.
The beauty of God's creation is evident in autumn's sights, smells and sounds. We cap it off next week with our Thanksgiving holiday and the gathering of family and friends to give thanks to God, who is always good.
In the spirit of giving thanks, last week the Catholic Foundation of Northeast Kansas hosted its annual Deo Gratias dinner. We are thankful for all of the donors whose gifts have created a foundation that provides and will provide support to so many of our parishes, schools and institutions.
The foundation celebrates our donors, fund holders and members of the Catholic Legacy Society of the archdiocese.
Each year, we honor a distinguished family and institution at our event. Don and Janice Arth, from Prince of Peace Parish in Olathe, were honored for their generosity and commitment to our vocations office and the Catholic Education Foundation.
Their work assures that Catholic schools are available to all who desire a Catholic education for their children. We are grateful to Don and Janice and the Catholic Education Foundation.
We are celebrating our Archbishop's Call to Share Crosier Society Mass this weekend. The Crosier Society recognizes parishioners who give at least $1,000 or 1% of their income to Call to Share.
This year over 2,000 of the faithful made a gift at this level. We are thankful for their support, which funds more than 40 ministries throughout the archdiocese.
Over the last two years since joining the archdiocese, we have been truly blessed, and I am grateful to all whose lives transmit the light of Christ. Our priests tirelessly serve our parishes, and many of them also serve on various boards and committees. Our deacons, who have full-time careers, are devoted to assisting our priests and ministries.
When you work for the archdiocese, one thing you witness is the tireless commitment of the lay faithful. The faithful give thousands of hours to our parishes, schools and ministries. When you take an up-close look, you see how many people bring the light of Christ to others.
Living a stewardship way of life begins with gratitude and our gratefulness to God for all his blessings. Living as good stewards and doing the will of God provides an unsurpassed joy.
Happy Thanksgiving, and may the peace and happiness from service to the church fill your hearts.