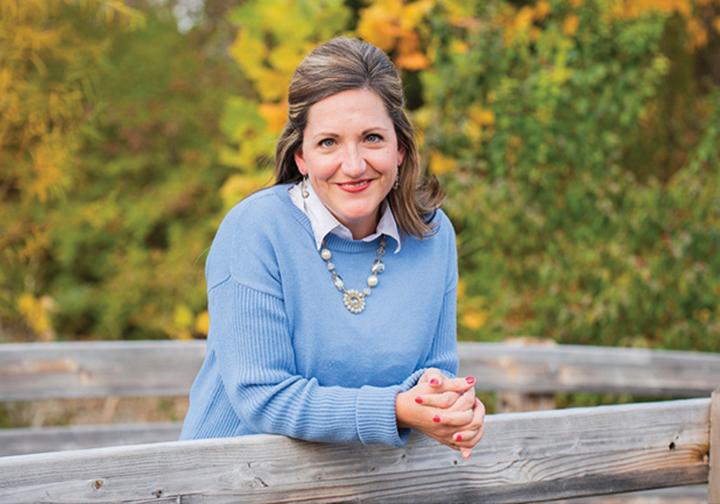 by Emily Lopez
We are blessed to experience the fullness of seasons in Kansas.
Fall is my favorite season for a number of reasons — football, sweaters and pumpkin spice to name a few. But none of those compare to the beauty of nature that surrounds us as the leaves change, exhibiting an incredible array of colors and textures.
Amid the busyness of daily life, I'm dazzled by God's gift of beauty in offering us an exquisite display that draws our eyes toward him. It has been a bittersweet season for our family: We celebrated a wedding in September and recently mourned the sudden passing of a close family friend.
The irony of celebrating life — in very different ways — at both gatherings is not lost on me. I'm reminded of this work by one of my favorite poets, E.E. Cummings:
"time is a tree (this life one leaf)
but love is the sky and i am for you
just so long and long enough"
Just as the leaves on the trees change, so do we throughout our lives. In all circumstances, we're called to continue to grow in our faith and strengthen our relationship with Christ. This call is easy in days of joy and laughter, but can become a challenge in times of pain.
How do we pursue a God of love when we're struggling to find some sense in understanding tragedy? The answer can only be found in knowing that the pain of grief is the loss of great love.
In creating us in his image, we've been gifted a soul with a divine capacity to love. As we exercise this favor, we expand our hearts to hold a tremendous depth.
Unfortunately (or maybe fortunately?), when we lose a love, that expanse does not contract. Instead, our hearts are left with a void . . . an emptiness that aches within our core. This "agape" love is what connects our heart so intimately with another and reflects the sacrificial love that Christ has offered each of us.
Agape love is selfless; it recognizes the good, accepts the bad and chooses to act despite human flaws. It is the most divine form of love that we can offer — a gift of the heart freely given. We never know the number of days we have to love, but we trust that loving enough every day offers that ultimate favor.
This fall, the changing leaves offer me a beautiful and bittersweet gift. They remind me that time is passing and seasons in life are changing, but love is the constant that fills our soul "just so long and long enough."