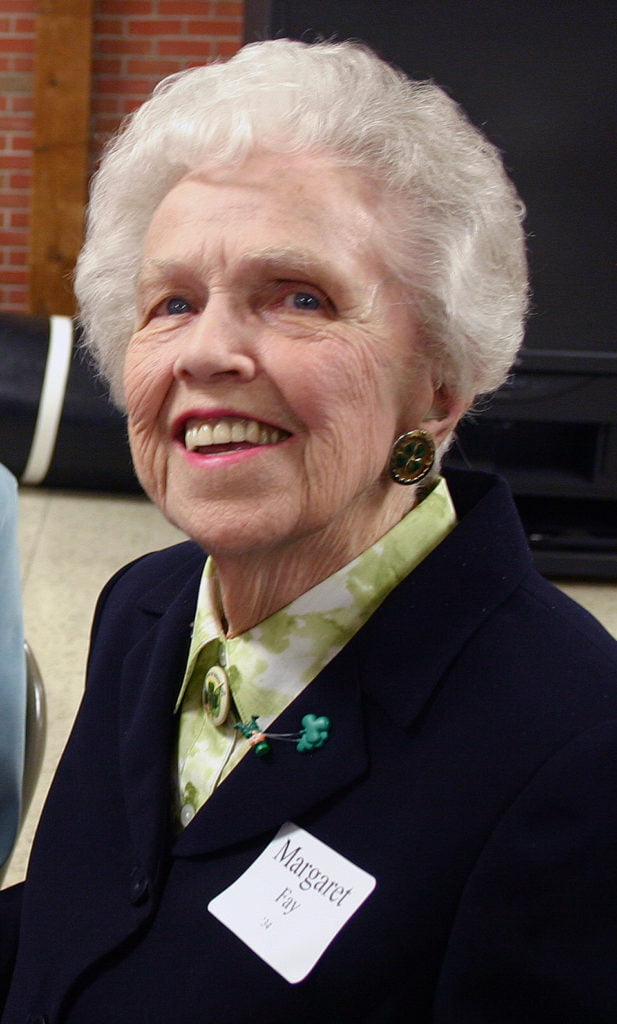 by Anita McSorley
anita.mcsorley@theleaven.org
I wasn't her favorite student.
And I was far from her best.
But the impact that Margaret Fay had on the course of my life is hard to exaggerate.
So when I discovered that she was going to be celebrating her 100th birthday later this spring, I decided that it was high time to thank her.
So thank you, Miss Fay, for being the toughest teacher I had in 18 years of formal education.
Thank you for never giving me a grade I didn't deserve.
For holding your students to the highest standards — yours.
And for being an example of faith and integrity to us all.
Thank you, too, for nurturing in me the talents you saw in me; they eventually put my kids through college.
I even want to thank you for making me memorize those lines from "Macbeth." Little did I know at the time how often the Bard's words describing life as "a tale told by an idiot, full of sound and fury, signifying nothing" would sum things up pretty darn well.
In short, thank you for being such a formidable force in my life. And educating me so well that I know that formidability is not only a quality of those who evoke fear — but also of those who inspire respect.
I have used what you taught me almost every day of my adult life.
And now I am inviting my classmates — of Bishop Ward's class of '75, but also of the generations of students before and after mine who were taught by Miss Fay — to join me in wishing her a happy Catholic Schools Week at the end of this month and a happy 100th in May.
Send to me — on our Facebook page or by email (anita.mcsorley@theleaven.org) — your name (include maiden name if appropriate), your class, and a brief note for Miss Fay. Keep it short, but offer a greeting, tell her what you're doing now, share your favorite Miss Fay story, or explain how she impacted your life.
I need your contribution by Jan. 18. And then I need one more thing.
Help me spread this post far and wide. Let's see how many of Miss Fay's former students are still out there, ready to honor a very special teacher this Catholic Schools Week.