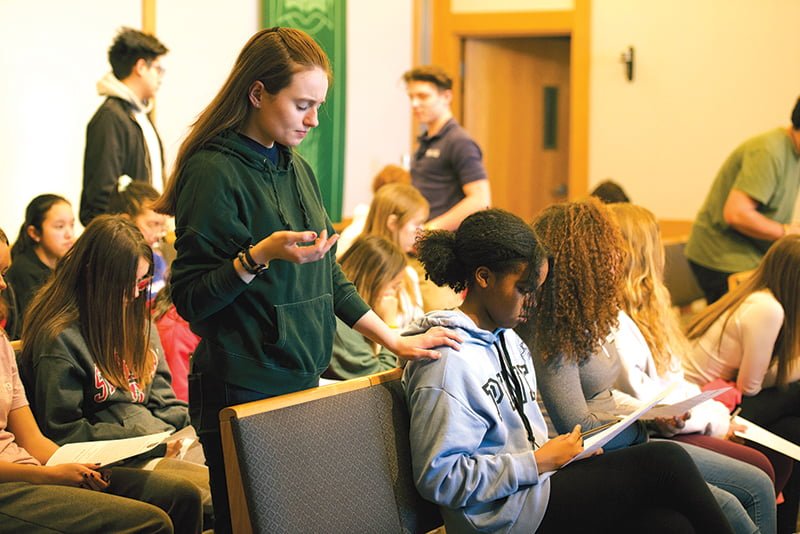 by Moira Cullings
moira.cullings@theleaven.org
ROELAND PARK — The NET Ministries team that visited Bishop Miege High School here from Jan. 14-17 had much to offer.
But perhaps the most remarkable witness of faith was the team's lifestyle.
The young men and women gave up their jobs and the comfort of home, began training in August and hit the road in September. Since then, they have traveled in a van across the United States, visiting schools and parishes to share the Gospel.
Some of the team members only recently graduated from high school.
"I don't think I could ever do that," said Miege sophomore Shea McGraw. "But it's a good thing to see and [have] people to look up to."
NET, which stands for National Evangelization Teams, is made up of young Catholics who join a team and travel the country for nine months, leading retreats and spreading the faith at parishes and schools.
A typical retreat includes games, skits, talks, small groups and prayer.
The NET team visited other parishes during their time in the Kansas City area, but Miege has had an ongoing relationship with the organization.
Bill Creach, director of campus ministry at Miege, said it is a tremendous help to him that the retreat is something he can offer his freshmen and sophomores, but that is planned and directed by others.
"I think it's good for our students to see non-Miege personnel talking about their faith and facilitating a retreat," he said.
Creach's hope in bringing NET to the school is that seeing young people radically live out their faith will inspire his students.
That hope isn't lost on freshmen like Stella Cahalan, who said interacting with her peers outside the classroom, particularly in a small group setting, is a welcome opportunity.
"Not often do teenagers openly like to talk about their faith around each other," she said.
"When I was in my small group," she continued, "I found that I could be open with everybody, and it was a totally different type of conversation than in the hallway and the classroom."
"You get to learn a lot more about your peers than in a normal school day," she added.
McGraw agreed, explaining the small group helped her meet new peers and get to know them better than she could with hallway chatter.
"It gave me a chance to actually talk with them more and hear about their personal experiences with friends," she said.
Sophomore Daniel Meara appreciated the humor the team brought to their skits, as well as the kindness they showed the Miege community.
"The retreat hosts are really nice and they interact with the kids a lot," he said. "I think that's really cool to see."
Amanda Baker and Isaac McElroy, two of the team members who visited Miege, said their feedback forms offer insight as to how the youth they work with respond to the retreats.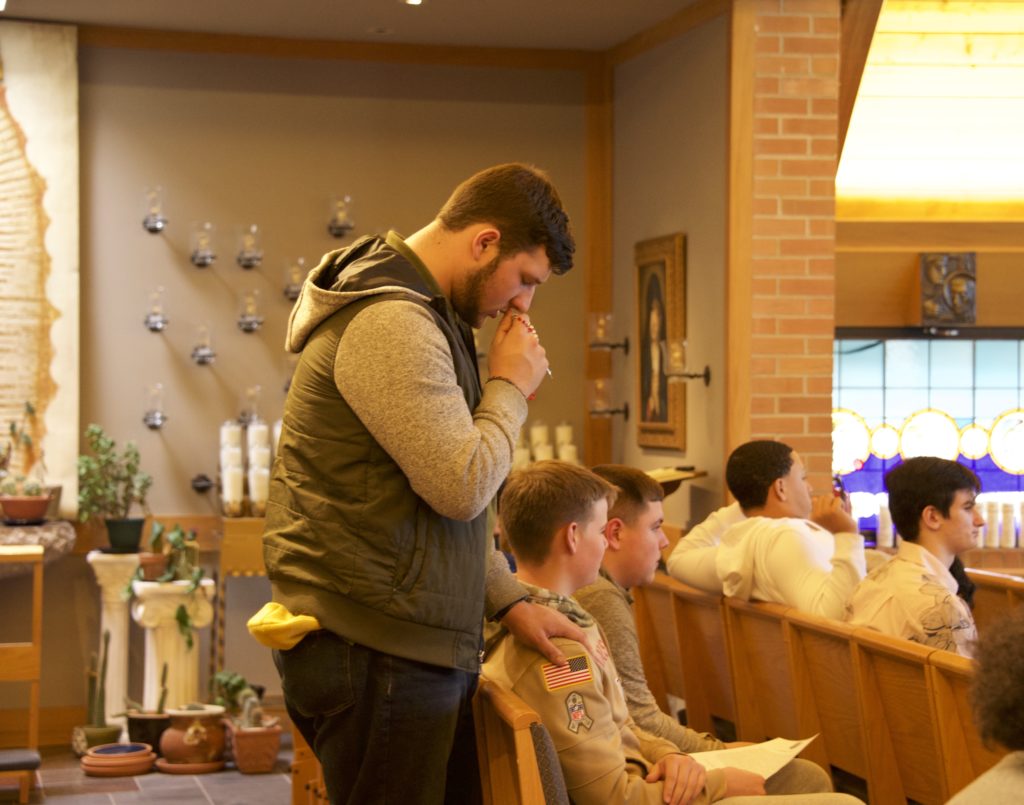 "By far, the most common response that we get is that a lot of the youth feel closer to God by the end of the retreat," said Baker. "That's a very amazing thing to read."
And although it's reassuring, it's not surprising for Baker, who said the greatest help during her own conversion was having other young people to look up to.
"It was very beneficial to see young people in the faith," she said, "and to be surrounded by those people really was encouraging."
What keeps the NET team going during difficult times is the knowledge that their work is impacting the future of the church, said McElroy.
"It's unfortunate that even before they get into high school, the statistics show [young people are] already choosing to leave," he said.
McElroy wants to give youth the "joy, happiness and strength" that come from a strong faith life.
"I think it's important for the youth to have that," he said.
Especially in the trying times that we are living through, "they need to have that reassurance that they have the Lord," he added.