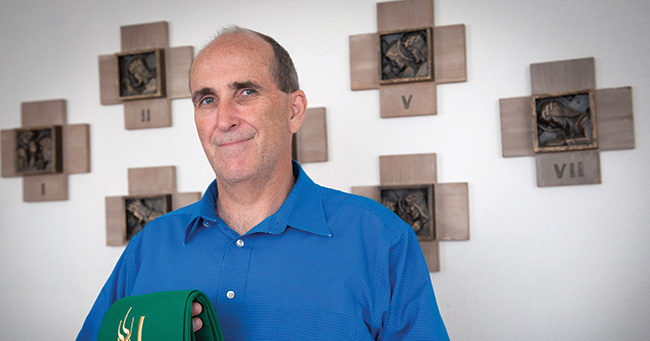 by Leon Suprenant
The permanent diaconate in the archdiocese has come a long way since the ordination of our first cohort in 2011.
We now have 60 deacons, as well as 16 men currently in formation — and we're making preparations to form our next cohort later this year.
Beyond the mere numbers, our local church is the beneficiary of a level of ordained ministry that was unknown in this region at the turn of the millennium.
The Lord has accomplished this work through many people, starting with Archbishops James P. Keleher and Joseph F. Naumann, and including the generosity of the deacons and deacons-to-be themselves.
But today, I would like to focus on one great man who had a singular influence on the development of our diaconate program.
Deacon Dan Peterson was originally from the Kansas City area, but his professional career took him to Flagstaff, Arizona. He was ordained to the diaconate for the Diocese of Phoenix in 1995. He subsequently served as director of the large diaconate program in Phoenix for over a decade and even served for a time as the president of the National Association of Diaconate Directors.
Deacon Peterson retired in 2010 and returned to Kansas City to be closer to family. Just as our first cohort of deacons was being ordained, Deacon Peterson was establishing himself as a permanent deacon at Divine Mercy Parish in Gardner.
When I started working in the diaconate office in 2011, Msgr. Gary Applegate advised me that we had a "retired" deacon in Gardner who might be willing to help us further develop our deacon program. I contacted Deacon Peterson, and he and his wife Judy welcomed me into their home on nearly a weekly basis, where he graciously and patiently instructed me about all things diaconate.
Not only that, but Deacon Peterson became actively involved in the formation process, meeting regularly with our formation team and attending formation events, where he was always a wise, kindly and prayerful presence. His motto in every circumstance was: "You are loved."
More than once Deacon Peterson told me that he knew that the Lord was bringing him home to Kansas City for a purpose, and over time, he clearly saw that it was precisely to help in the establishment of the permanent diaconate in the archdiocese.
Deacon Peterson taught us firsthand the reality and power of redemptive suffering. Over the past several years of his life, he experienced several debilitating illnesses and conditions, which he embraced willingly as a means of grace. To the end, his pain was a source of intercessory prayer, and not a cause for self-pity.
I especially remember with moist eyes his final presentation to cohort 2 on the final day of their pre-ordination retreat in 2017. He was so caught up in the joy of sharing his diaconal ministry with these men that he set down his cane and seemingly was given a booster shot of energy from above.
Deacon Peterson passed away last year, but because of COVID, his funeral Mass was delayed until this month. We could not let a mere pandemic keep us from gathering in prayer to entrust this holy deacon to our blessed Lord.
Deacon Peterson, you are loved!