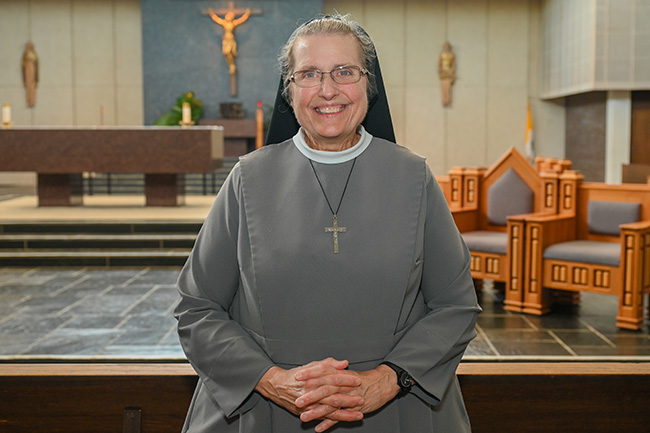 by Sister Eva-Maria Ackerman
A direct flight from the United States to Cuba was challenging at the end of 2010, when we set out for Havana to establish our religious congregation's first mission at the island's only major seminary.
Due to the 60-year-old embargo imposed by our nation's Treasury Department on Cuba's revolutionary government, the only way to enter the country directly was by charter flights, involving a lot of paperwork, stress and sometimes long delays.
Despite the relative closeness of our countries, we took the long way around to reach the island. A flight took us from St. Louis via Atlanta, to Dusseldorf, Germany. We then journeyed by convent van to the small village of Thuine, the very birthplace of our religious congregation, the Sisters of St. Francis of the Martyr St. George.
During our days in our motherhouse, we Sisters often walked to the cemetery to visit the grave of Mother M. Anselma Bopp, who founded our religious community in 1869. Fortified in spirit, we soon left frigid northern Germany for our final destination in tropical Havana.
Climbing aboard the seminary bus with the rector and seminarians, we traveled down a highway dotted with royal palms and mango trees to our new home on the city's peripheries, Seminario San Carlos y San Ambrosio.
Along the way, we saw many people traveling in all forms of transportation: colorful American cars from the 1950s, horse-drawn carts, buses crammed with passengers, trucks specially made to carry people standing up, motorcycles with sidecars, and bicycles. There were hitchhikers and people simply walking down the highway on their way home, carrying children, heavy bags of food and clothes.
All of us travelers had a single purpose that day: to reach our destination.
Our foundress, Mother M. Anselma, offers her Sisters an important itinerary for our journey through her maxim: "The surest way to heaven is to be simple, humble and faithful in your duties." She manifested this "how to be" because the love of her life, Jesus Christ, not only showed her the way of simplicity, humility and faithfulness in all areas of life, but he also was "the way" (Jn 14:6), her way to heaven.
Each day, we set out anew to our final goal with trust. Jesus is our way, our roadmap and our means of taking us to places we never expected to go, near and far. He shows us what to do when we encounter challenges and meet fellow travelers along the way.
I thank God for the gift of a seasoned traveler, Mother M. Anselma, who teaches me and accompanies me to my ultimate destination: life on high with Christ Jesus in heaven.