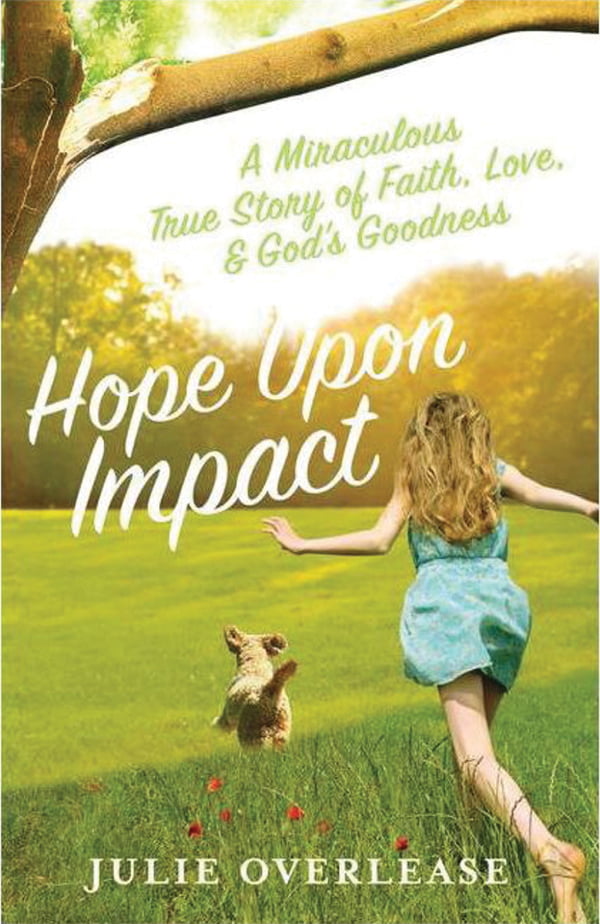 by Olivia Martin
olivia.martin@theleaven.org
PRAIRIE VILLAGE — It was April 20, 2018.
Julie Overlease, a parishioner of Curé of Ars Church in Leawood, went to pick up her daughter Evelyn from a friend's house.
As Julie approached the house, she heard a thunderous crack. Then another.
An entire section of a tree had fallen on 12-year-old Evelyn's head as she rushed to save her puppy from the blow.
Today, you'd never know Evelyn sustained multiple skull fractures, broken foot bones, and countless scratches and bruises.
She miraculously survived — and completely recovered. In fact, she was back to playing tennis only days after her release from the hospital.
But now, it's time for her story to be told.
On April 20, exactly two years after the accident, Julie's book "Hope Upon Impact" will be released by Paraclete Press.
"What began as an effort to share information with family and our community about my daughter's accident turned into a writing process that helped me heal after experiencing a traumatic event," said Julie.
And that healing has been made possible by faith, trust, prayer and a loving community.
Firm in faith
The Catholic faith has always been central to the Overleases' lives but, as Evelyn grew stronger after the accident, so did their faith — particularly through the support of Curé of Ars Parish.
"Evelyn's accident shows you what the community of faith is capable of," said Robbie Overlease, Evelyn's father.
Julie agreed.
"There was an exponential [response]," she said. "It had been demonstrated when other people have experienced crises, so that display is a beautiful norm within our faith community."
Overwhelmed with thankfulness for the support and healing given to her family, Julie wanted to give back through becoming a more active supporter of the pro-life movement.
"I had for a number of years a little whisper that I should be involved in [the pro-life] effort," she said.
So, in the summer of 2019, Julie began training as a client advocate for Advice & Aid Pregnancy Center, a clinic and education site that provides medical and mental support for women facing crisis pregnancies. She now volunteers there weekly.
And for Evelyn, an eighth-grader at Curé of Ars School, her involvement in the pro-life movement is simple yet profound: a life filled with gratitude.
"I am grateful [to be] able to wake up every day and be with the people I love," she said.
Learning to trust
Julie and Robbie agree that one of the biggest challenges they face as parents of their four children is learning how to trust.
"I'm convinced that bubble wrap is the answer!" joked Julie. "Sometimes, the fear of what could go wrong is paralyzing and it requires a prayer for trust."
Robbie agreed.
"Sometimes, the prayer is more for me than for the children, to not worry," he said.
Praying the rosary, reading spiritual books and listening to podcasts are a few ways that have helped the Overlease family stay faithful to God's presence in their lives.
"I'm receiving confirmation this year," said Evelyn, "and I chose Saint Thérèse of Lisieux because she's known for doing small things with great love.
"And that's something I can do."
How to order
"Hope Upon Impact" is available online for preorder at major booksellers and, starting April 20, at the following locations:
• An audio version is available here.