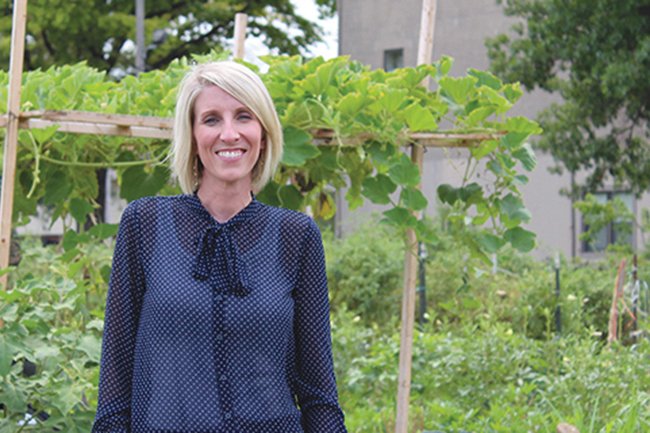 by Lauren Solidum
"Let us love not with words but with deeds."
— Pope Francis
April is Volunteer Appreciation Month. A volunteer, by definition, is a person who freely takes part in an activity without the promise of compensation for services rendered. A volunteer is a person who freely gives — just as Jesus freely gives his love and mercy to each one of us.
At Catholic Charities of Northeast Kansas, our volunteers embody this teaching every single day through their generous service. They are an incredible bright light during the dimness of the pandemic.
During the past fiscal year, over 7,500 volunteers answered God's call to serve the least among us. They became the hands and feet of Christ, giving 186,673 hours of service. They distributed food, coordinated housing for refugee families, taught financial education classes, prayed for and with the dying and so much more.
The versatility of their skills and talents is second only to the vast breadth and depth of our ministries.
In the Letter of James, we are reminded that prayer without action is insufficient. Action without prayer is insufficient: "Indeed someone may say, 'You have faith and I have works.' Demonstrate your faith to me without works, and I will demonstrate my faith to you from my works" (2:18).
Thanks be to God that Catholic Charities is a place where both are abundantly present. As we have seen, more clearly than ever during the pandemic, Catholic Charities is a vital extension of the pastoral care provided by our parishes, drawing the people in the pews to enact their faith and bring those on the peripheries back into contact with our beloved church through service, love and friendship.
Our doors have remained open by the willingness of our volunteer workforce to be that support, that comfort and that provider of physical necessities to families in need for the last 65 years here in northeast Kansas.
During the World Day for the Poor (November 2019), Pope Francis called us to serve "the treasure of the church" — the poor — and warns us that being labeled "Christian" or "Catholic" is not enough to follow Jesus.
The volunteers at Catholic Charities represent a much- needed movement in our country to not only recognize the poor and vulnerable in our communities, but more importantly, to serve them physically, emotionally and spiritually. In a country where so much so often is polarizing or political, this movement is needed perhaps now more than ever.
Although the Lenten season is behind us, we can still strive to fulfill our Lenten commitments of loving and serving our neighbors in need.
On behalf of all of our volunteers here at Catholic Charities, I pray that each of us has the courage to self- examine where in our lives we've fallen short prioritizing the poor around us. O God, grant us the willingness to answer your call, as our volunteers at Catholic Charities have, on behalf of those in need.
Thanks be to God for those who share their talents with Catholic Charities of Northeast Kansas.