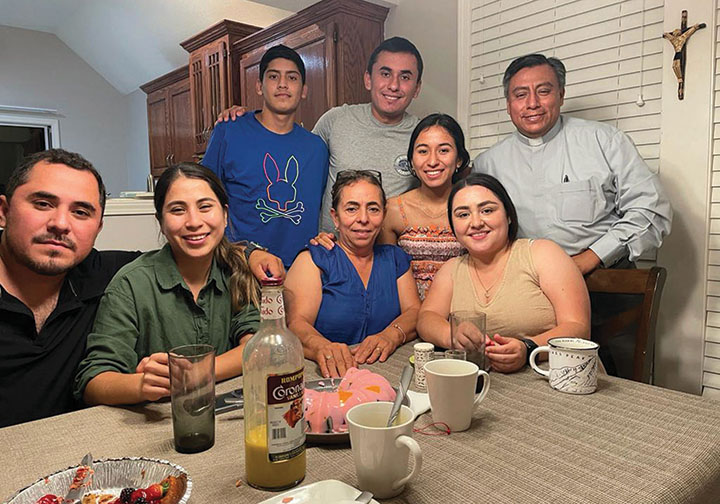 by Moira Cullings
moira.cullings@theleaven.org
OLATHE — When St. Paul Parish here was in need of a priest, a diocese more than 1,500 miles away didn't hesitate to send one.
"The relationship between the Archdiocese of Kansas City in Kansas and the Diocese of Querétaro is strong and a great blessing," said Father Michael Hermes, pastor of St. Paul and vicar for Hispanic ministry for the archdiocese.
The need for a priest during the month of July came about because Father Agustin Martinez, associate pastor at St. Paul, is away studying canon law at Catholic University in Washington.
Father Alonso Montero from Querétaro came to the rescue.
This is his first time in the United States.
"His first day here was on July Fourth," said Father Hermes. "I told him we only have fireworks once a year — on July Fourth!"
Father Hermes expressed his deep gratitude to Querétaro Bishop Fidencio López, calling his generosity "a great sign of friendship and solidarity."
During his time at St. Paul, Father Montero has assisted in various areas.
"Father Alonso is concelebrating morning Mass with me, visiting the homebound and sick, blessing houses, celebrating weekend Masses and quinceñeras, and having dinner with families from Querétaro," said Father Hermes.
"His presence has been a big blessing for our parish," he added.
Father Montero described his time in Olathe as "an experience of faith and hope."
What makes his presence even more special is St. Paul's connection to Querétaro.
Past migration movements brought several families from Querétaro to the archdiocese here, said Father Hermes.
"Many families in St. Paul Parish are from Querétaro," he explained, "especially from Purisima de Arista and Jalpan de Serra in the Sierra Gorda, one of the most beautiful parts of Mexico."
Father Hermes said the partnership with the Diocese of Querétaro has revealed to the parishioners originally from there that their bishop in Mexico still cares for them and wants to stay connected.
"His decision to send Father Alonso was a beautiful act of care and compassion for his flock in Kansas," said Father Hermes.
The St. Paul community was excited to welcome Father Montero.
"As soon as we announced that he was here," said Father Hermes, "we received many calls from parishioners wanting to host him for dinner and conversation.
"It's nice to have a priest visiting from where many of our families are from."
Father Montero was most excited to "be one with the parish, touch the hearts of Hispanics and take with me a project to continue working with them."
He was delighted by the opportunity to help.
"There is always something to share," he said, "and I have learned it from the poorest. Our diocese has also sent another priest to Argentina despite [our] need.
"We have enough priests, but not what we should be in the diocese — there is a lack of vocations."
Father Montero hoped his time at St. Paul would also bear fruit for his priesthood.
"Personally, it is to grow in faith and to enrich myself with the faith of the faithful of this parish," he said, "and to discern the pastoral work for the good of Hispanics, in communion with Father Michael, as the motto of this beautiful parish says: 'United in Christ.'"
Father Hermes hopes the relationship between the two dioceses will continue to flourish.
"Our archdiocese is blessed to have many Catholics who were born and formed in the Catholic faith in Querétaro," he said. "These are some of our most devout and active Catholics.
"We hope that our two churches will stay close and work together so we might always take good pastoral care of our people."