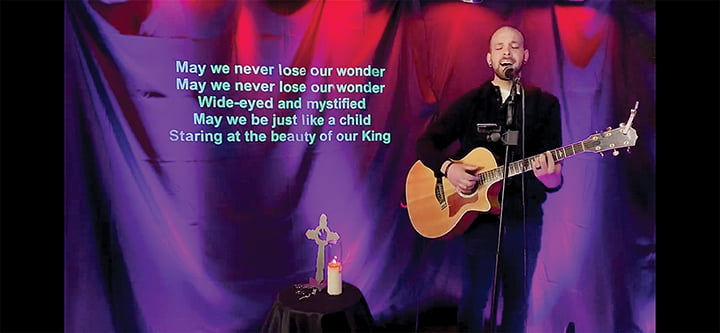 by Moira Cullings
moira.cullings@theleaven.org
KANSAS CITY, Kan. — Setting up for a musical performance is something Mikey Needleman has done countless times over his career.
But lately, he's been singing his heart out to an empty room, knowing that eventually, thousands of people will watch his performance online.
His music is a key part of Digital Prayer Nights (DPN), a weekly video series from Camp Tekakwitha at the Prairie Star Ranch in Williamsburg. It includes prayer, worship and testimonies, and is designed to connect people during this time of social distancing.
"The church has survived everything — from the early church when they couldn't even have Mass in public for the fear of being murdered or jailed," said Needleman. "Now, we're in a time where we can't have Mass.
"What's our alternative? The alternative is to make it happen the way that we can and be creative in how the church is going to continue to gather and be sustained.
"This is new territory," he continued, "but that doesn't mean the church doesn't have a place. We just have to be creative in what gathering looks like right now."
DPN videos are posted on Tuesdays at 7 p.m. on Camp Tekakwitha's Facebook page and YouTube channel. They last around 45 minutes and include Needleman's performance, a message from Deacon Dana and Deborah Nearmyer, as well as from other families and young adults.
The videos are filmed beforehand and pieced together by Needleman, who then premieres them online, so the format is similar to a live-stream.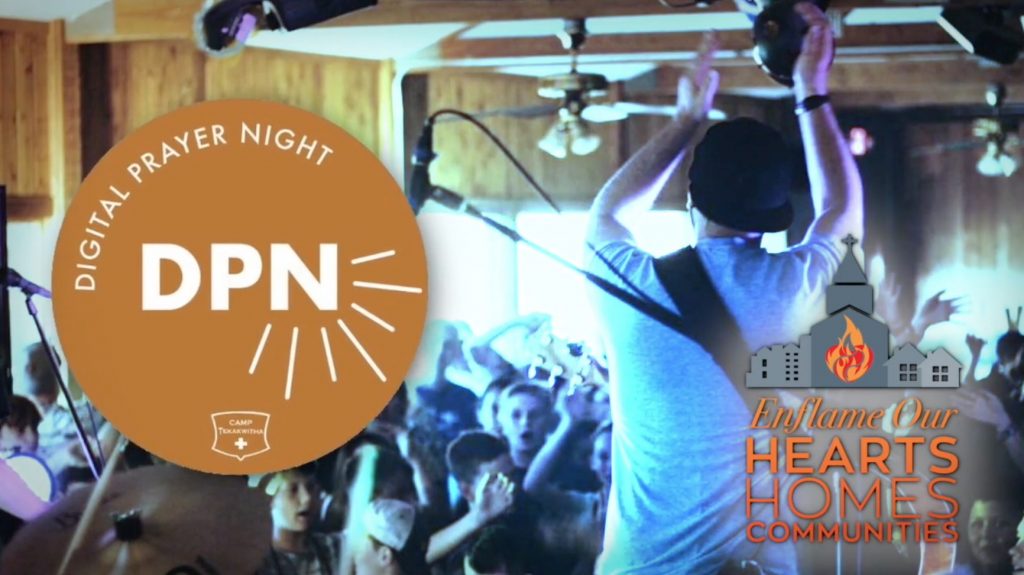 One profound moment during the first DPN was when Christina LeDesma, a junior at Basehor-Linwood High School, and her twin sister Sierra, a junior at Bonner Springs High School, shared a piece of their struggles, which God has helped them overcome.
"I love sharing my testimony with others," said Christina. "Though it can be hard, I know that if I join my suffering with Christ, he can use it for good."
Christina noticed the positive effects quickly after the video ended, when a friend texted her words of gratitude for opening up during the video.
"By me sharing my story," she said, "it actually started a conversation with one of my friends, which led to her opening up to me about some of her struggles that she's been dealing with in her own life.
"She said that me sharing my story made her feel like she wasn't alone."
Christina emphasized the important role videos like DPN have on the faith of young people during this time.
"I honestly feel like God is using this time to shift our focus onto him," she said. "For a person who struggles with mental health, I know that having to be inside all day and not being able to go anywhere can really take a toll on your mental health.
"However, through this scary and uncertain time, I have found so much peace and so much joy in the simplicity of things."
For J.D. Reece, a senior at St. James Academy in Lenexa, there were many reasons to tune into DPN.
"I heard about it from friends," he said, "[and] I have a lot of free time. But the real reason was that I just wanted to have that connection again.
"Praying alongside people is such a beautiful thing, and we haven't gotten to do that in person for a while, so it was cool we figured out how to do it at home."
Reece was impressed with how relatable those who shared testimonies were, and he was grateful for the opportunity to lean on God with other young people during a time when many feel isolated.
"I think everyone involved that night got the sense of peace that we've all been searching for these past couple of weeks," he said.
Needleman, who usually records his performances between 9 p.m. and 2 a.m. so as not to be interrupted by his young family, said positive feedback has made the hours of work he puts into each video worth it.
"I think right now, we're all called to step up in our own ways," he said. "I have the ability to pull some of this stuff off that maybe a lot of people don't.
"I think it's my duty to use [the gifts] that I've been given to bless the church."