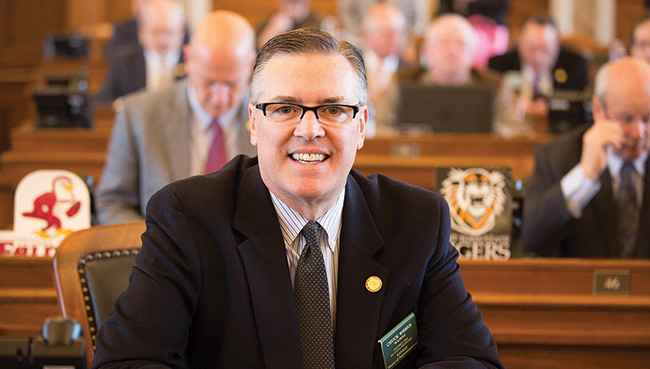 by Chuck Weber
Laws are like sausages — better not to see them being made. Having spent many an hour in the cutting room of our family's custom butcher business, this analogy is hard to accept. 
As the 2023 Kansas legislative session lurches forward, key issues and divisions are coming into greater focus.
Our Lady of Fatima visionary Sister Lucia dos Santos said: "The final battle between the Lord and the kingdom of Satan will be about marriage and the family." We witness this collision firsthand in the corrosive anti-family agenda being imposed upon Kansans and are compelled to respond.
The Fairness in Women's Sports Act (HB 2238) ensures biological girls and women would only compete in athletics against other girls and women. This ensures fairness and safety for all participants. It is not, in any way, "hate" or an attack on anybody.
Another measure supported by the Kansas Catholic Conference is the Women's Bill of Rights (SB 180). The bill places into law the clear distinction between the sexes. The objective is the protection of the health, safety and privacy of individuals in areas like athletics; prisons or other detention facilities; domestic violence centers; sexual assault crisis centers; and more.
In these and other debates surrounding human sexuality, our challenge is maintaining charity in the face of vicious lies. We should acknowledge and pray for the suffering many are experiencing due to their sexual confusion.
As predicted, defeat of the "Value Them Both" amendment is ushering in a dark new era. Kansas is growing as an abortion destination of the Midwest. Abortion clinics statewide are reporting record numbers of women seeking an abortion. The dangerous abortion pill protocol is now being dispensed in greater numbers via telemedicine. This hurts women and destroys human life.
The legislative response by the Kansas Catholic Conference is this: We will not abandon moms and babies to the abortion industry. If Kansans cannot protect women and their preborn babies legally, we redirect our efforts.
Pregnancy Resource Centers (PRCs) on the front lines of the struggle for life deserve our support. Missouri dedicates more than $8 million a year toward direct support of PRCs. (Unsettling truth: Half of all Kansas abortions are performed on women from Missouri.)
Proposals to incentivize more private donations to PRCs (SB96) and the creation of the Kansas Alternatives to Abortion Program (HB2429) are two legislative steps being taken to offer women true choice when facing an unplanned pregnancy.
The abortion industry and their allies in the secular press are working hard to create a false narrative painting PRCs as "fake clinics" — or worse. I invite you to learn more about PRCs online at: www.HelpingKansasWomen.org.
St. Joseph, defender of the Holy Family, pray for us!