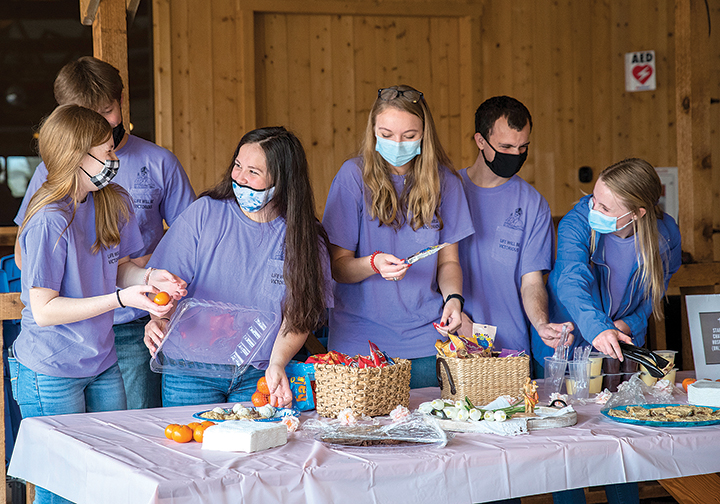 by Moira Cullings
moira.cullings@theleaven.org
WILLIAMSBURG — It was a long time coming, but the wait was worth it.
"This was the first big event that I've been to since COVID hit, so I was really excited to get out and about again," said Morgan Sumner, a parishioner at St. Boniface Parish in Scipio.
"I was just happy that I finally got to spend time with people around my age," she added.
Sumner was one of 120 teenagers who attended this year's Rural Catholic Youth Conference (RCYC) from March 27-28.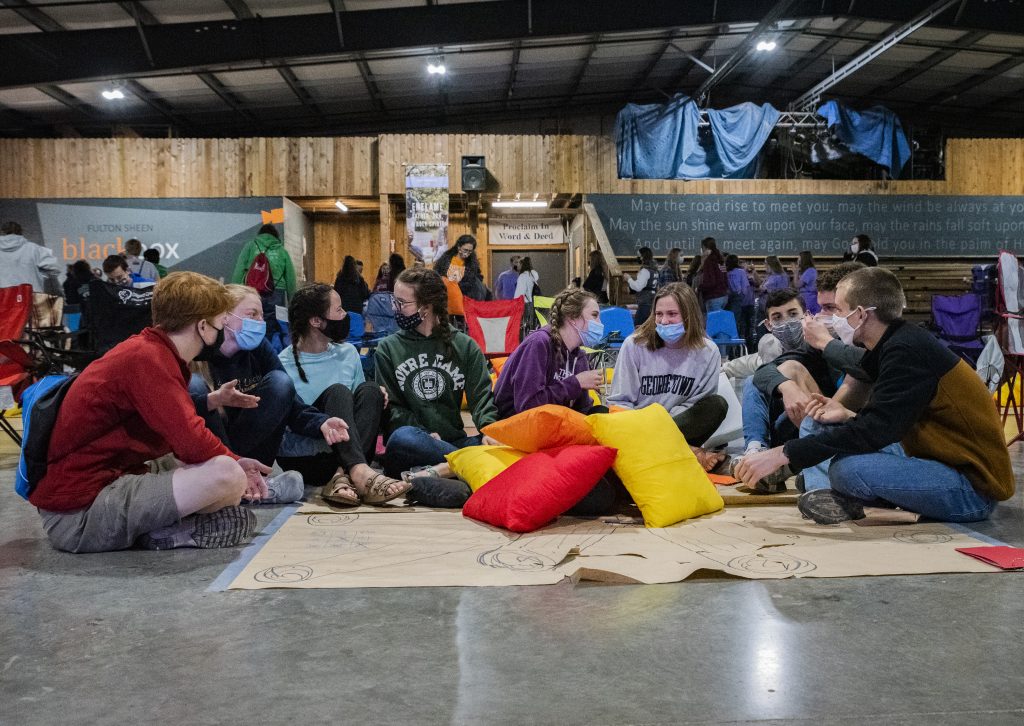 She's been going to school all year but admitted "it's been sad" because of the restrictions in place, which can leave her feeling distanced from her peers.
Although the event implemented the standard COVID precautions like mask-wearing and social distancing, the atmosphere made it easy to connect with other teens on a deeper level, said Sumner.
The third-ever RCYC in the Archdiocese of Kansas City in Kansas was the most unusual so far — but perhaps also the most special.
The ranch to the rescue
Typically held in November during the opposite year of the National Catholic Youth Conference, RCYC was postponed twice due to COVID-19 restrictions.
The venue was eventually moved from a hotel in Topeka to Prairie Star Ranch in Williamsburg.
"It wasn't feasible for us to get all of our volunteers and open it up to enough people [at the hotel]," said Angie Bittner, rural youth ministry outreach coordinator for the archdiocese.
"We looked at the ranch [and saw] we could do it there and maybe have a little more space to move about and fresh air," she said.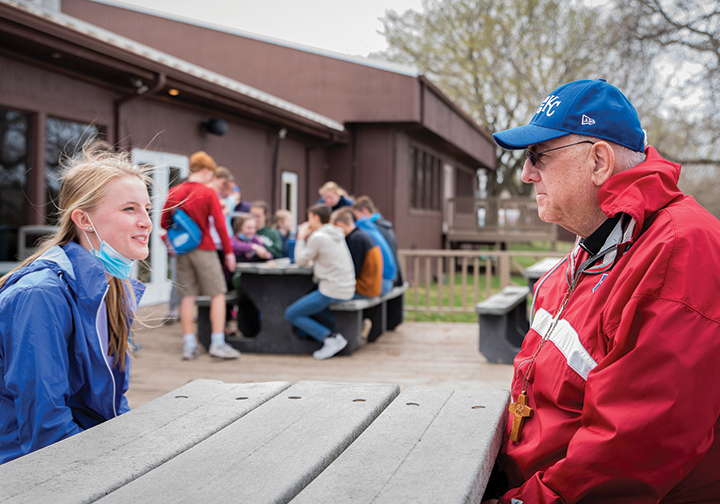 It seemed that the third time was a charm for the rural event.
The ranch catered to the group of 120 participants and 30 staff with its ample land and open indoor hangar space.
The format was similar to past years — with opportunities for Mass, eucharistic adoration and various talks — but with a more lenient schedule, said Bittner.
"It was a more relaxed schedule because we had to be a little bit flexible," she said. "We couldn't do all the breakout [sessions] that we've had in the past."
Malea Karnes, a member of the Northeast Kansas Rural Youth Council (NEKRYC) and parishioner at St. Columbkille in Blaine, said she didn't mind the changes in this year's event.
"We were supposed to have RCYC back in November," she said, "so I was just glad we were able to have it now, even if it was postponed.
"I see some of my friends from NEKRYC at events for school, but it's hard to meet up at other times. Having RCYC was another way we all could connect with each other as well as in our faith."
Created by teens for teens
The teenaged NEKRYC members played a key role in planning RCYC.
Working with the theme "For Such a Time as This," inspired by the Book of Esther, the group met regularly over Zoom to share ideas, said Karnes.
"It was really cool when we got to Prairie Star Ranch and when we got to set everything up," she said. "It was great watching all of our ideas come to life."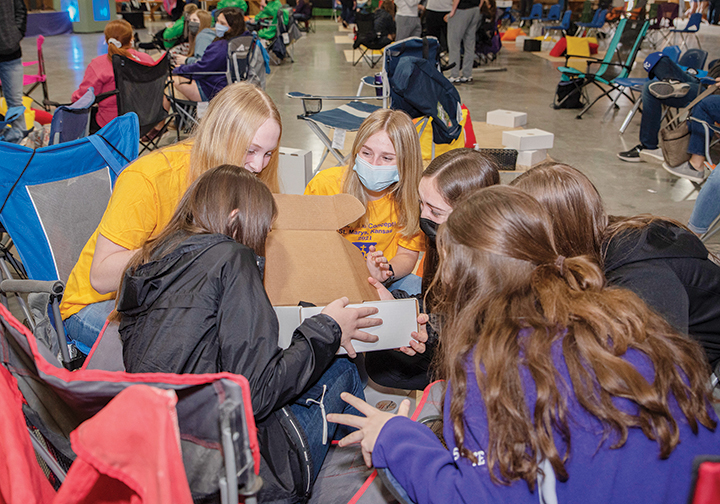 Bittner said the teens' input is critical to RCYC's success.
"If we didn't consult kids about what we're doing," she said, "then it's not going to be relevant to kids.
"Us 'old people' don't necessarily know what they need or what they desire, so [their input is] a huge part of it."
The NEKRYC leaders helped choose the topics discussed at RCYC — from anxiety and depression to other struggles young people today face.
They also presented a skit at the beginning of the weekend to explain the event's theme.
Their presence offered an example of teenagers who aren't afraid of their faith, which is a part of NEKRYC's greater mission year-round.
"We try to inspire others, especially our fellow teens, in their Catholic faith," said Karnes.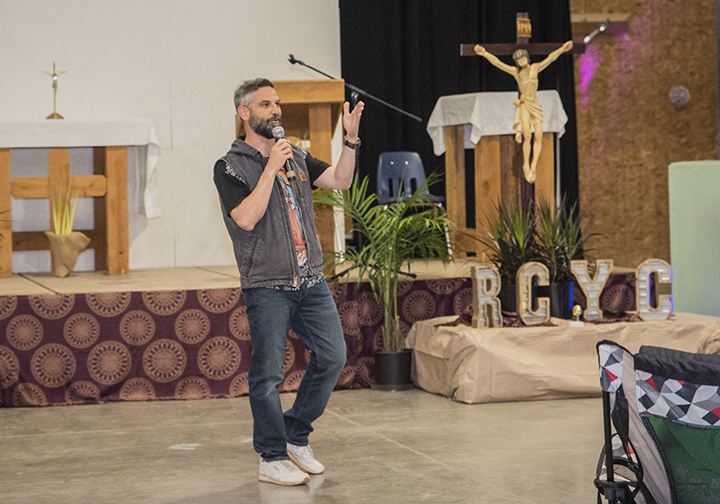 Sumner said it's not every day she gets to interact with so many Catholics her own age, especially those who are serving in leadership roles.
"They were super-welcoming and open to me," she said. "I could really feel God's connection through them. It really helped me want to be closer to God and more faithful."
So much so, she added, that it inspired her to apply to join NEKRYC.
Sumner hopes to use her own gifts and outgoing personality to help other teens grow in faith.
"I really felt like it's God calling me to be part of NEKRYC to use that big personality I have to spread the word of the Lord," she said.
Community of young Catholics
Bittner is moved by the uplifting, faith-filled community NEKRYC has created.
"I think it's contagious," she said. "It's why a lot of other kids see that it's OK to have fun and celebrate Jesus at the same time.
"If there are any [rural] kids that are desiring to have a group of friends that really is running toward the Lord, you can find that in this youth council.
"You might not always find it at school. Even at church, there might just be one other kid your age."
But at NEKRYC, Bittner continued, it's a whole community of young Catholics, and "it gives them permission to strive for holiness."
For Karnes, NEKRYC and the opportunities it's provided have been priceless.
"Joining NEKRYC was one of the best decisions of my life," she said. "I have met some of my closest friends through this experience and have grown in my faith.
"Being able to inspire others my age is an amazing thing, and I hope other teens think about joining NEKRYC in the future."