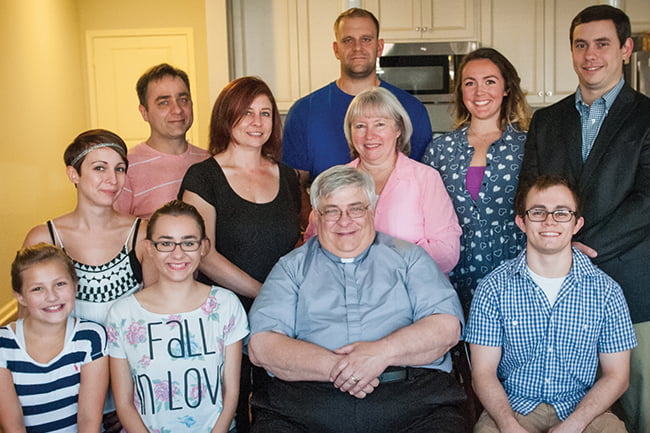 by Deacon Tony Zimmerman
Our favorite pew at Sunday Mass when our children were young was located next to the choir.
We favored that pew as one end was blocked by the organ. We could sit as a couple keeping the little ones corralled between us and the organ.
One Sunday, while Barbara held an infant in her arms, one of our daughters escaped and came to stand next to me at the ambo as I proclaimed the second reading.
Keeping my composure, I continued with the reading while holding firmly to the top our daughter's head. I saw lots of grins. The celebrant remarked how cute it all looked.
We always strived to sit as a couple during Mass. There was always a sense of being one, especially as we knelt side by side in prayer before Mass — and most especially during the eucharistic prayer, the Lord's Prayer and the sign of peace.
How important is this image of a married couple to others whether married, single, widowed and even those who face struggles in their own marriage?
I believe that the words found in the Letter to the Hebrews gives us the answer: "Therefore, since we are surrounded by so great a cloud of witnesses, let us also lay aside every weight and sin which clings so closely, and let us run with perseverance the race that is set before us, looking to Jesus the pioneer and perfecter of our faith" (12:1-2).
We all know couples, family or friends, whose marriage inspires us to want more in our marriage and family.
It looks like that moment during our annual Mass honoring those couples married 50 years, when they turn toward each other, hold hands and reaffirm the words of consent, giving their lives to one another on their wedding day. You cannot help but be moved and inspired.
Those couples will tell you it meant working daily on their love. Perhaps there has been no greater stress on marriage and family life than the pandemic. It can be so easy to settle into a rut of getting through each day.
Please! Don't settle for this. To be a part of that "cloud of witnesses" for others, seek out enrichments such as: a virtual Worldwide Marriage Encounter weekend (www.wwme4youandme.org). Experience the virtual everyday skills for married couples at: www.archkck.org (click on "Offices," then "Marriage and Family Life").
Check out the monthly date nights (also virtual for now) offered by the School of Love at: www.schooloflovekc.com.
Consistent daily couple and family prayer is also a necessary support. Join in the daily rosary meditations offered by the Holy Family School of Faith at: www.schooloffaith.com.
You will be surprised someday to find that your marriage and family life gave hope and support to others.