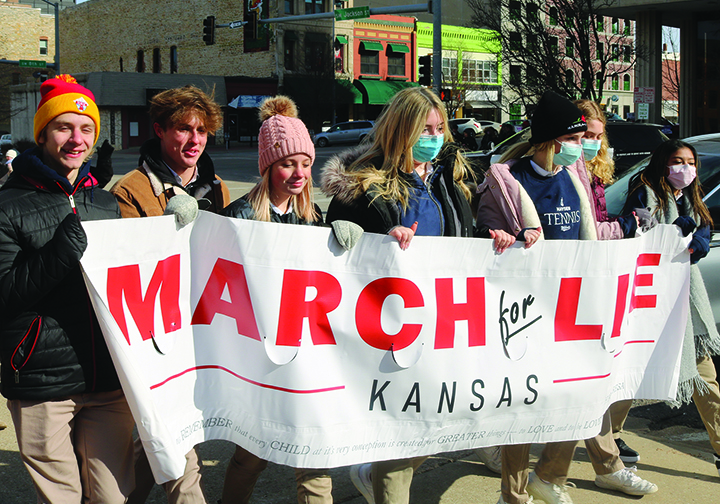 by Marc and Julie Anderson
mjanderson@theleaven.org
TOPEKA — Amazing. Inspirational. Powerful. Moving.
That's how four archdiocesan eighth graders described the Ignite Rally and Mass for Life held Jan. 25 at Topeka's Performing Arts Center.
The annual event drew an estimated 1,500 students ranging from middle school to college age from around the state and featured remarks by Debra Niesen, the archdiocesan pro-life consultant; an opening prayer by Father Mark Ostrowski, chaplain of St. James Academy in Lenexa; Mass celebrated by the Kansas bishops; and a video featuring a woman sharing her story of how Advice & Aid Pregnancy Centers helped her to choose life for her now-7-week-old child.
The day's activities also included a talk by Kristan Hawkins, president of Students for Life of America, an organization founded in 2006 with nearly 1,300 chapters on high school and college campuses across the country. Its signature "I Am the Pro-Life Generation" signs can be spotted at nearly every single pro-life march.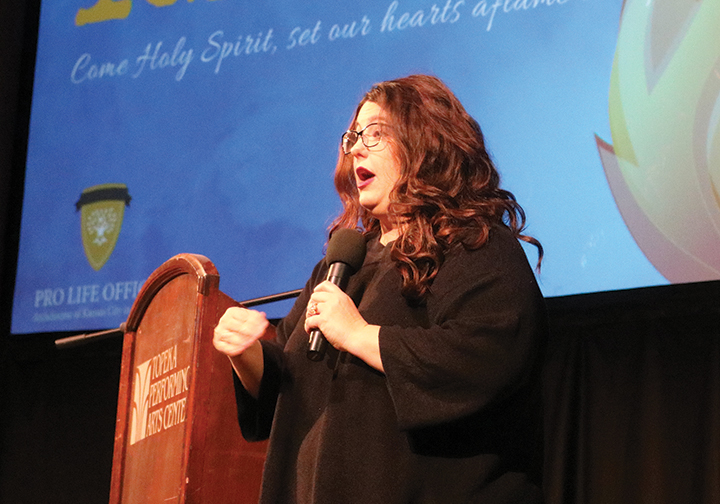 In her talk, Hawkins described her journey from uninvolved teenager to president of a national organization.
"I simply said yes to an opportunity that was presented to me when I was 15 years old to volunteer at a women's health center in my community," she said. "I didn't know at the time it was a pro-life pregnancy resource center."
That day, Hawkins said, changed her life.
At the time, she wanted to work at NASA and was planning on earning a degree in aeronautical engineering.
"I was going places, and then everything changed because I learned what was happening," she said, "what was happening 2,363 times every single day inside Planned Parenthood and other abortion facilities. And my question immediately was: 'Why isn't anyone saying anything? Why aren't there protests in the streets? Why is it that when I go to church every Sunday this isn't the first thing we talk about? How is this not coming up in my school? Where is the outrage? Why are they not talking about on the news every single night?'"
Almost immediately, Hawkins started a pro-life group at her high school.
"Everything in my life changed because I had said yes to one opportunity that was presented to me. A passion was ignited inside of me," she continued. "You never know how God is going to use your 'yes' — how God is going to use your willingness to speak for the most vulnerable."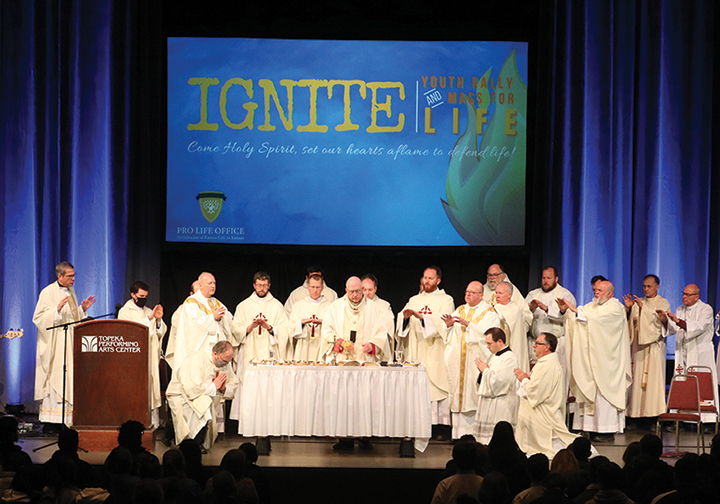 Elsewhere in her talk, Hawkins discussed three action steps every person can take to "make abortion unavailable and unthinkable."
The first step, she said, is to see in your mind what an America without abortion looks like.
"To see is a dangerous thing," she said, "because once you see what our nation could look like when no child is deemed unworthy, when no one says it's just better to abort this child, then you're going to have to do something more."
The next step, Hawkins said, is to speak about abortion, but one cannot stop there either.
"After you begin to speak about abortion and you speak out, next you have to serve. What are you doing to serve?" Hawkins asked. "As we prepare for a nation without Roe, we must do our part to ensure that every single woman knows the resources available to her."
Even though there are more than 2,000 pregnancy resource centers across the nation, Hawkins noted that eight out of 10 people do not know where they are within their own communities.
Closing her remarks, Hawkins read from the First Chapter of St. Paul's Letter to Timothy, instructing the youth to heed its advice.
"Do not be timid or fearful. Do not have cowardice. You are in the world's greatest human rights movement," she said. "You are part of a pro-life generation that will become the first post-Roe generation. You are part of history that's going to do something that hasn't been done for over 50 years in our country when we send Roe v. Wade back to the ashes of history, when we work state by state to make abortion unthinkable and illegal."
Among those hearing Hawkins' presentation were Joey Geier and Madison Kamer of Christ the King School in Topeka, and Jenna Henkensiefken and John-Patrick Ayella, both of Mater Dei School, also in Topeka.
Describing the day as "moving," Ayella said he could "definitely feel the atmosphere" and he's going to "speak up more about abortion," while Henkensiefken called the day "powerful."
Kamer, likewise, found the day "inspirational," and said she was especially touched by the woman featured in the video.
"She just looked to get help," Kamer said, adding she plans to help "spread the message."
Like Kamer, Geier said he plans to speak up more.
"Abortion is never OK. It has never been, never will be," said Geier. "I think more people need to know that."