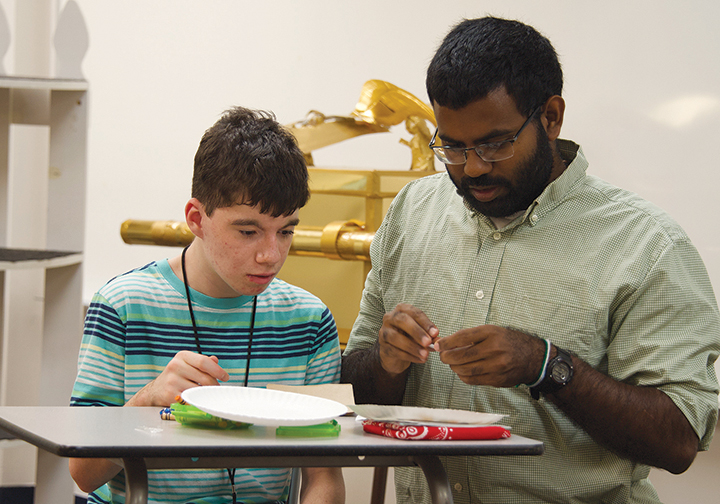 by Moira Cullings
moira.cullings@theleaven.org
OLATHE — Tom Racunas didn't need to wonder about the impact Totus Tuus for people with special needs had on those in attendance.
The smiles on their faces said it all.
"They seem to be happy," said Racunas, lead consultant of the archdiocesan special-needs ministry. "The parents are telling me they're talking about it at home."
And although the focus was on teaching the adults and children with special needs more about the faith, that wasn't the most important thing in Racunas' mind.
"If they don't learn anything about the faith," he said, "at least we want them to leave here thinking and feeling that they're loved."
Totus Tuus ("Totally Yours") is a Marian devotional program designed to help young people grow in faith.
Led by missionaries who spend their summer hosting these events throughout the archdiocese, the latest one was held at Prince of Peace Parish in Olathe from July 19-23.
It was the second offered for people with special needs in the archdiocese.
Seventeen people participated. They took part in daily Mass, learned about the rosary and the Ten Commandments and joined in various activities and crafts.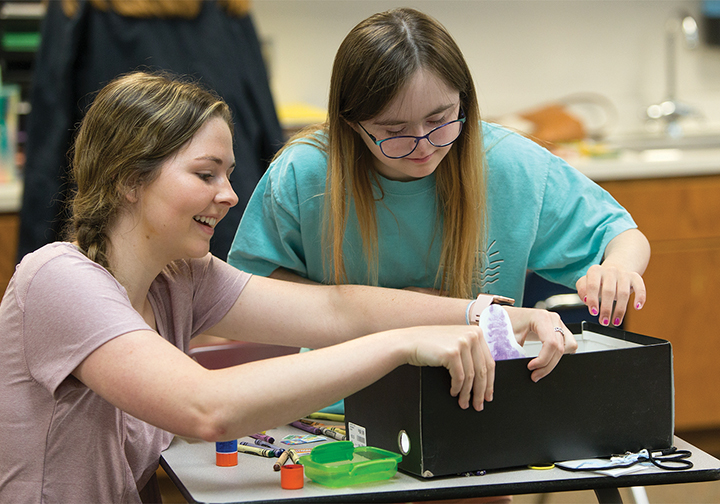 Volunteers like Prince of Peace parishioner and parish advocate Roxanne Hug ensured everything ran smoothly.
For Hug, the experience was personal.
She currently teaches at Holy Spirit School in Overland Park and has a daughter, Mara, who is blind.
Although Mara has benefited from similar archdiocesan programs in the past, this time she was a volunteer alongside her mom.
"It's been especially meaningful for my daughter to come with me and work as a volunteer," said Hug. "It's been interesting for her to come into that volunteer role instead of being the one that's the [participant]."
The volunteers supported the missionaries, helped with lessons and took care of any needs that arose.
"The main thing is building relationships with [the participants] so that they feel comfortable and are ready to learn about Jesus," said Hug.
Hug was paired with missionary Anton Johnson, a fellow parishioner who is pursuing his master's degree in elementary education.
For Johnson, serving as a missionary these past several weeks has been eye-opening.
"We went to a lot of farm communities," he said, "so we got to see a lot of these kids who are faced with much deeper [challenges], and they have a different lifestyle."
Working with children from a variety of backgrounds prepared Johnson to tackle the ups and downs of Totus Tuus for people with special needs.
"There's going to be challenges every place we go," he said. "We don't hold ourselves back because there's a challenge. We just push through it."
Shannon Cardaronella, director of children's ministry at Prince of Peace, was eager for her parish to hold this event.
"For me, it's very important," she said. "My brother is three years older than me, and he's in a group home in Ohio.
"We didn't have anything like this when he was growing up."
The parish's curb cuts, circle drive, elevators and wide halls are some of the elements she knew would make the event accessible to people of all abilities.
Cardaronella also lauded the parish's dedicated staff, particularly its maintenance team, who not only kept everything clean, but also prepared the classrooms for the children and adults who attended Totus Tuus.
"The biggest unsung heroes are our maintenance staff," she said.
Cardaronella was impressed by both the missionaries and the volunteers who gave up their time, and she hopes there will be similar events in the archdiocese moving forward.
"We need to support families," she said.
Racunas agreed.
"For our families, for our parents, it's definitely saying to them that the church wants your child, the church needs your child [and] we are here for your child," he said.
Racunas also hopes the week left a strong impression on the missionaries and volunteers.
"They hopefully — in a deeper way — will recognize the value of all human life," he said. "I always say, 'God doesn't make a mistake.' Every child is perfect in their own way."
Racunas wants Catholics in the archdiocese "to know that we need to work harder, longer, stronger [and] more relentlessly to ensure that — regardless of ability — 'all means all' within our church."
To learn more about the archdiocesan special-needs ministry, visit the website at: archkck.org/special-needs.