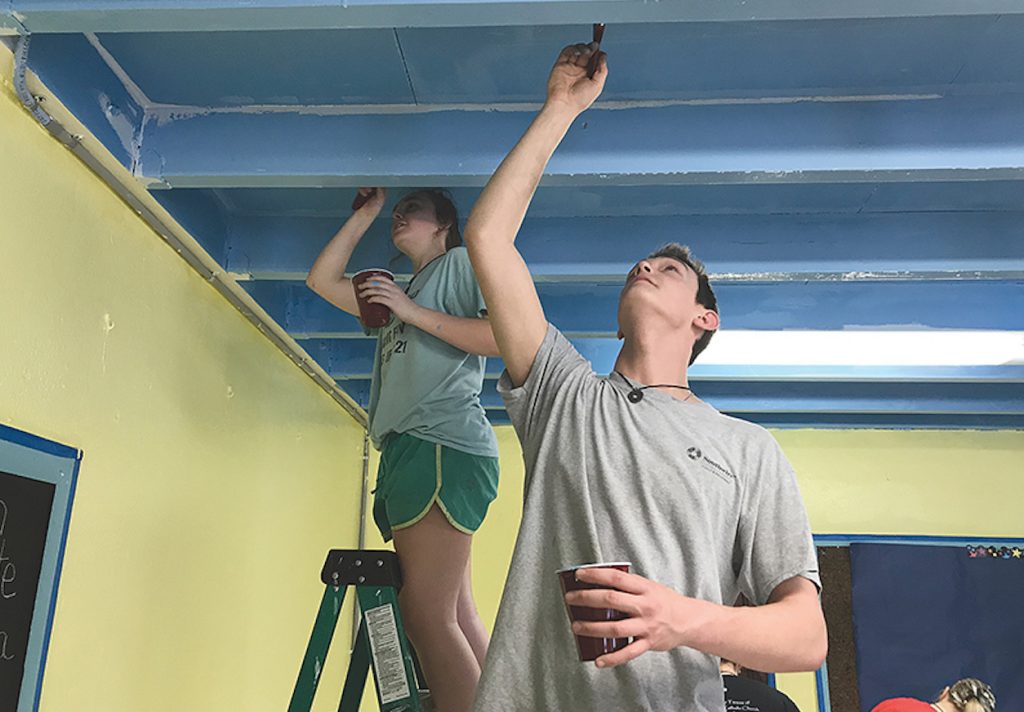 by Susan Fotovich McCabe
Special to The Leaven
It's hard to believe that tropical breezes, white-sand beaches and warm sun can serve as the backdrop to anything but vacationing crowds.
But for many of the citizens of St. Croix in the U.S. Virgin Islands, it's the backdrop to poverty, generations of need and a steady stream of volunteers. Today, the island continues to recover from a Category 5 hurricane in September 2017.
Students and parents from the archdiocese's rural youth outreach ministry and Mother Teresa of Calcutta Parish in Topeka were among those who volunteered to help in the recovery during a mission trip to St. Croix in March.
Their theme for the week centered on: "Suffering produces perseverance, and perseverance, character; and character, hope, and hope does not disappoint" (Rom 5:3-5a).
And while the beaches turned heads, the experience changed hearts and minds, according to Nancy Ruoff, the youth ministry coordinator at Mother Teresa.
"There is a wide gap of needs on the island. There are people who lost everything in the hurricane and those who are very wealthy. But not a lot in between," Ruoff said. "For the students who participated in the mission trip, I haven't found anything else that brings the kind of change of heart and values as a mission trip. They came back changed. You can't experience this and not have it be a part of you going forward."
The students, ages 14 to 18, represented seven northeast Kansas parishes. The group partnered with Catholic HEART Workcamp, which provides parish youth groups and their adult leaders with opportunities to participate in mission trips around the globe.
Many of the students had never even seen a beach before; some had never flown on a plane. Katelyn Bittner, a junior at Seaman High School in Topeka, wasn't sure what the experience would be like.
"I don't exactly remember what I was expecting. You get an image of what it's going to be, what's going to happen, but it's from a detached point of view," she said. "When you experience it for yourself, the image you created days, weeks, months ago doesn't matter. It's immediately replaced by the opportunity to interact with others in the first person — feeling and learning about that which you can't imagine until you've done it."
Topeka's Hayden High School sophomore Rhen Calhoon experienced similar shock at what she had seen when arriving at the island.
"I knew they had just gotten hit by a hurricane and the island was going to be damaged, but I tried not to look into it too much. When I got there, it was worse than I had ever imagined," Calhoon said. "We were all in disbelief. There were many houses with tarps over roofs, buildings that had collapsed, people without shelter, and many kids doing whatever they could to get one single plate of food."
In fact, according to Ruoff, many of the children on the island felt unworthy of the blessings they received from their visitors during the week.
"One recipient looked at the plate of food and asked, 'Do I get to eat all of this?'" Ruoff said. "It just breaks your heart."
While on the island, the students helped stock a food pantry, led a vacation Bible school, worked with the Sisters of Charity to feed the poor, painted a school, cleaned and repaired portions of a church that had been severely damaged by the hurricane, cleared out and replanted a flower bed, made bracelets and attended daily Mass with many of the people they served.
"Sharing my reflection with others was a moving moment for me, because I felt comfortable sharing with our group. We felt like family," said Garrett Hammer, an 8th-grader at Royal Valley Middle School in Mayetta. "It made me feel grateful. I felt more open to talking to others, which is not something I am usually comfortable with doing. I felt refreshed from all the noise from the world. It was good to have God touch others through me, even if I didn't realize it was happening."
Ruoff regularly plans events for her students to help those in need. This time, however, she opened the invitation to Angie Bittner, the archdiocese's rural youth outreach coordinator, and her students. Bittner said it was a good opportunity to step away from the riches we experience in the United States and witness the hardships encountered by others.
"I think the kids really got the chance to know Christ better throughout this trip," she said. "Any time we move away from technology and the busyness of day-to-day life, it gives us the chance to listen to the whisper of God that we often don't take the time to hear. We had so many opportunities to live and serve selflessly on this trip, we couldn't help but be transformed closer to what God hopes for us."
Not every student was given the assignment they had anticipated. But, by the end of the week, they had discovered that God's plan was exactly what they needed.
Such was the case with Kamryn Applehanz, a freshman at Seaman High School. Applehanz wanted to work with students in the island's orphanage but was assigned to work instead with adults with intellectual disabilities.
For Applehanz, disappointment quickly turned to discovery.
"I was extremely disappointed, but I said a prayer," Applehanz said. "I told God that I trusted there was something he needed me to know. Sure enough, God pulled through — like always. That first day kicked off a train of amazing memories I will never forget and an openness that allowed me to grow in so many ways."
Lauren Brown, a junior at Seaman, had a sobering experience the first day that stuck with her.
"We went to a school and played with kids," said Brown. "I was playing with this one little girl and she was very shy at the beginning of the day."
"After a while, she warmed up to me and she didn't want to leave my side," Brown continued. "Towards the end of the day, she said to me, 'Are you coming back tomorrow?'"
When Brown told her that she didn't think so — the volunteers were scheduled for work the next day — the little girl was dismayed.
"I hope you come back because you are my only friend," she told Brown.
"That day just stuck with me because knowing that I wouldn't be able to go back and see her broke my heart," said Brown. "Just thinking about how sad she would be the next day made me so sad."
While encounters like these moved the young volunteers to tears, others lifted and inspired them.
For example, the group had the pleasure of observing the work of the Sisters of Charity, a vibrant force in the St. Croix community.
"We were so excited to interact with them," Bittner said. "They've given their lives completely to serve wherever they're called to serve. They go about this work with vigor and nonjudgmental love and persistence. They keep knocking and inviting and showing up. They taught us how to be respectful in the island's culture. They're also very humble. It was such an honor to serve alongside them."
Bittner and Ruoff encourage the people of the archdiocese to pray for those in need in St. Croix. But they have an even broader message about people in need around the globe and here at home.
"Be aware that when we vacation somewhere, we get to see the beautiful part of an island or a resort, but there's this entire other reality of the way people who work there actually live," Bittner said. "Everyone we come in contact with deserves sincere respect, not just [to be] treated like someone who should serve us."
"And we don't have to travel thousands of miles to find communities that are underserved and neglected," she added. "They're right within our own towns. They deserve our respect and love — not to be treated like a lesser class of person. We can offer sacrifices for them, knowing they have so little and we have so much."
The students did get to enjoy a four-hour stretch on the beach the last day and are now hard at work planning their trip to World Youth Day in Lisbon, Portugal, in August 2022. A return trip to St. Croix may happen next year as well.