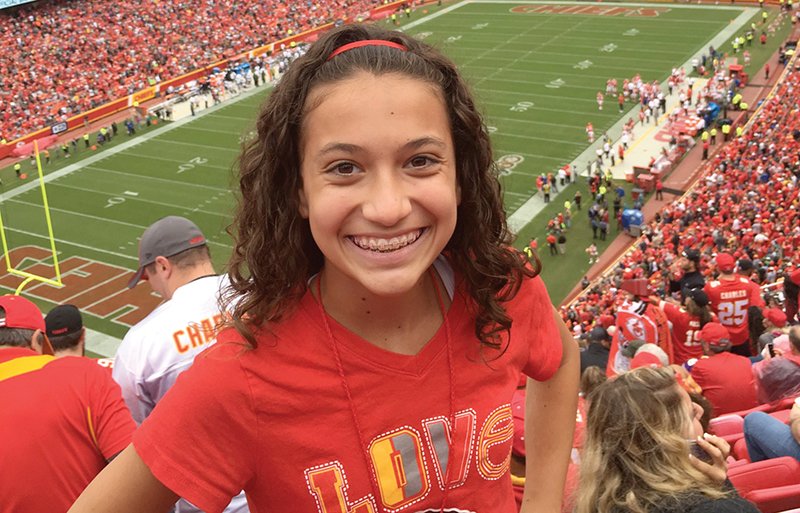 by Moira Cullings
moira.cullings@theleaven.org
OLATHE — Sophie Schneider's passion for exercise not only keeps her active, but it's also sending her to one of America's largest sporting events — the Super Bowl.
The 13-year-old parishioner from St. Paul in Olathe won this year's NFL Play 60 Super Kid Contest, which earns her a special role at the Super Bowl — handing off the game ball to start the game.
"I'm overwhelmed with joy!" said Schneider.
"It is such an honor to represent my parish, school and community on a national level and get to do such fun and amazing things along the way," she said.
Contestants entered the contest by submitting a short video where they talked about what being active means to them and showed the different sports and activities they enjoy.
After the contestants were narrowed down to the top three, members of the public were invited to vote for their favorite contestant based on the videos.
Initially one of three finalists chosen out of thousands of entries throughout the country, Schneider discovered she won the whole thing on Jan. 12.
"Since it was a national competition, I did not expect to win," said Schneider. "Then when I made the final three, I knew that I would be happy with the outcome either way."
"I am so grateful for everyone that voted for me because I could not have won without them," she added.
Schneider's parents Karen and Jim are ecstatic for their daughter.
"Sophie has been involved with the NFL Fuel Up to Play 60 (FUTP 60) program at her school for the past several years," her father said.
FUTP 60 is an in-school nutrition and physical activity program that encourages young people to live healthier lives.
"She was selected as the Kansas Ambassador earlier in 2016," he continued, "so when this idea surfaced, we thought it would be a great opportunity to promote the FUTP 60 nutrition and exercise message on a national level."
The prospect of winning actually became real when Sophie became a finalist, her mother said.
"She realized that it was a time to work hard campaigning for as many votes as possible," she said. "Sophie was overwhelmed by the people who stepped up to support her."
Those who know Schneider said she is the perfect fit for the Super Kid role.
"Sophie is friendly, outgoing and has a great personality," her father said.
"When she communicates the FUTP 60 nutrition and exercise message," he added, "she does so from her own experience gained in the program for the past three years.
"Of course, we want her to enjoy the experience, but we also hope that it inspires her to continue to work hard and seek new opportunities."
Although Schneider is disappointed the Kansas City Chiefs are not one of the teams to make the Super Bowl, she can't wait for this opportunity of a lifetime.
"To know that I have my archdiocese behind me means the world to me and is very comforting," she said.