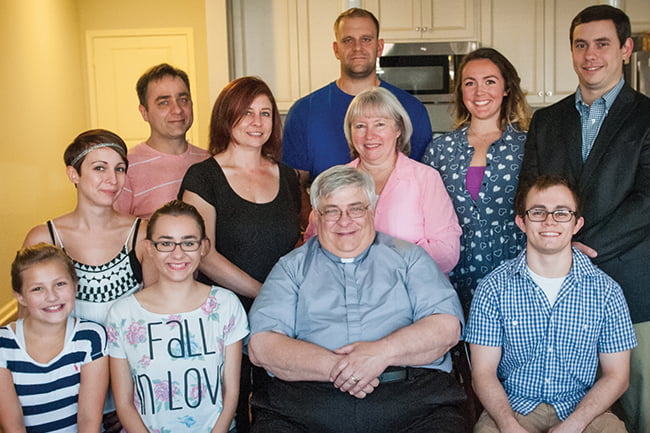 by Deacon Tony Zimmerman
Not so long ago, the Kansas Department for Children and Families held town hall sessions to get feedback on marriage and family relationship needs.
Some of the people present expressed the idea that marriage and family relationships should not take so much work. I was surprised and a little taken aback by this attitude.
John Van Epp, Ph.D., and J. P. DeGance in their book, "Endgame: The Church's Strategic Move to Save Faith and Family in America," state: "People think . . . if their relationship requires intentional work, then there must be a problem." Who wants to be seen as having a "problem" marriage?
My wife Barbara and I experienced our first marriage enrichment after being married for nine years. A priest and couple came to our parish to invite married couples to a Worldwide Marriage Encounter weekend. I suggested to Barbara that we take the offer. Later, she said she was surprised at my idea. I didn't tell her at the time but I felt like something was missing in our marriage.
Now, 41 years later, I thank God for the invitation given by that priest and couple. Our renewed love also opened our hearts to new life in three more children. What a gift! We continue to seek a yearly enrichment. Why? Because healthy marriages do require work!
There are many different ways to enrich your marriage:
The Worldwide Marriage Encounter weekend teaches a communication technique that allows you to share thoughts and feelings on any topic — even the "touchy ones" — and remain close. For more information, go online to: https://wwme.org.
The "Living in Love" enrichment has been experienced by nearly 1,000 couples in the archdiocese. Discover new ways to affirm the great gift God has given you in your spouse.
One couple married over 50 years asked why they had not heard this good news sooner! The next enrichment is scheduled for March 26-27 at Church of the Nativity. For details and to register, contact Brad DuPont by email at: bdupont@archkck.org.
The School of Love offers support for daily couple and family prayer in a blog and a podcast. They also offer a collection of short, fun, relevant videos to get you laughing, thinking and talking about topics concerning faith, marriage and family. These are preludes for a date night at home or before a dinner date.
They also offer quarterly date nights at local establishments, offering an inspirational talk on some aspect of marriage, discussion and hors d'oeuvres as a set- up for a dinner date on your own. Go online to: www.schoolofloveusa.com.
On Feb. 13, the annual World Marriage Day Mass will be celebrated by Archbishop Joseph F. Naumann at 11:45 a.m. at Church of the Ascension in Overland Park. A reception will follow Mass. Families are welcome. Reservations are NOT necessary.
February 14 (Valentine's Day) is the closing day of National Marriage Week. The theme is: "Called to the Joy of Love."
These are just a few of the ways to intentionally strengthen your marriage that will bring joy and allow you to grow in love.