by Jill Ragar Esfeld
jill.esfeld@theleaven.org
KANSAS CITY, Kan. — "When I first heard of the 'stay at home' order," said Cathy Fithian, principal of Christ the King School here, "my concern was feeding the kids."
That sentiment echoed across the archdiocese in schools that typically serve our low-income population, especially in Wyandotte County.
"As we were hearing more and more about our families becoming unemployed," said Our Lady of Unity School principal Cally Dahlstrom, "we knew we had to figure out something to make sure they were able to feed their children."
Schools found the answer by applying to provide grab-and-go breakfasts and lunches through the federally assisted meal program.
"Seventy percent of our students here at Bishop Ward qualify for free and reduced lunches," said president Jay Dunlap. "So, we thought it was important to help our families.
"And when this opportunity came along, there was discussion of, 'Well, should we try to do as little as possible?'
"And as a community we decided, 'No we should try to do as much as possible.'"
Serving all children
Administrators approached their lunch staff about continuing to provide meals for children and were met with unanimous support.
Laura Jennings, lunch manager at Resurrection School, had been sitting at home for two weeks worrying about the students she served when principal Lynda Higgins approached her.
"I had done a lot of praying and a lot of reflecting on what I could do to help," she said. "So, there was not a doubt in my mind, I needed to do this.
"God was calling me to do this."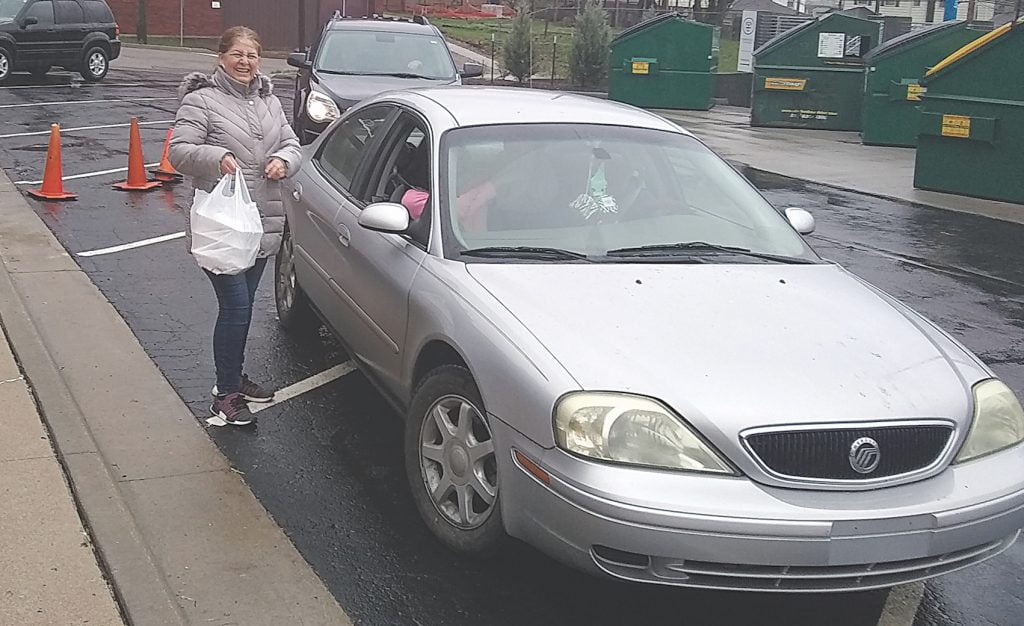 Executive chef Rick Atallah, Bishop Ward High School's food director, felt the same.
"These kids depend on these meals," he said. "Our faith wants people to take care of their family and neighbor, to take care of the needy and be merciful to anyone who needs help."
Schools providing the grab-and-go meals are serving not only their students or those who qualify for free and reduced lunch, but any child between the ages of 1 and 18 who needs a meal.
Schedules vary, but most schools serve three times a week, providing enough meals for two days each time.
"Its one of the ways we've been able to keep our part-time staff employed and engaged," said Dunlap. "We know that's a great help to them."
Jennings admits the process of ordering, preparing and packaging up the food — all while being super-vigilant about sanitation and health department guidelines for food handling — is intense.
"The state gives us guidelines and suggestions on what to serve," she said. "So, I go by their suggestions and what I know our kids will eat."
Atallah agreed it's a challenge to offer variety, nutrition and something the kids will enjoy.
"We basically give them full meals," he said. "Today, for instance, we served them [a] cheese quesadilla, rice, vegetables, milk, juice and fruit.
"When they pick up their lunch, they get another meal for breakfast. Today, they got cereal, muffins, juice, milk and fruit."
On average, each school is providing meals for 100 to 150 students.
"We [distribute meals] Monday, Wednesday and Friday," explained Fithian. "On Monday, we served 600 meals because we served for Monday and Tuesday."
And numbers continue to go up.
Staying connected
"We're telling people anyone they know who needs a meal is welcome to come as long as they are between the ages of 1 and 18," said Fithian. "We also put it on our sign out front.
"So, we've had people from all over KCK come."
It literally is grab and go.
"People pull up to the door that is nearest to our cafeteria and let us know how many children we're serving in their family," said Dunlap. "We have one of our staff out there handing them the lunches off of the cart and then it's the next one through."
Higgins takes part in the process of handing out meals at Resurrection and finds it allows her to stay involved with her students.
"It's really been a great time for me to touch base with the kids and make sure they're getting online and to see if they have any questions," she said. "We've used it as a time to pass out packets and to get information back and forth.
"It's been good for me to keep that connection going."
Their efforts have been met with a flood of relief and gratitude from the families they're helping.
"Our parents are so thankful," said Dahlstrom. "I know today a parent shared with me that her 1-year-old was sitting at home waiting for the sack lunches to get there because they hadn't eaten anything in a long time."
At Christ the King, on the first day of grab and go, Fithian encountered a gentleman from the neighborhood who walked over to ask what the school was doing.
"I told him and asked if he had any children," she said. "He said had three; and then he went back home and brought his children to get lunches.
"They don't go to our school and it was really sweet to see. I think they were hungry."
The schools want to get the word out that they have meals available.
"I feel like part of our mission as Catholics is to reach out and do anything we can to support one another, especially in crisis time," said Dahlstrom. "There's something driving me to make sure kids are okay, and I'm sure that's the Holy Spirit."
Jennings, who has three children at home, admits it's a great challenge to provide so many meals each week, and asked for prayers that they have the strength to continue this mission.
"The need for lunches might increase as the process keeps going," she said. "So, keep us in your prayers.
"And thank you to the people who have already been praying for us.
"It is definitely working."