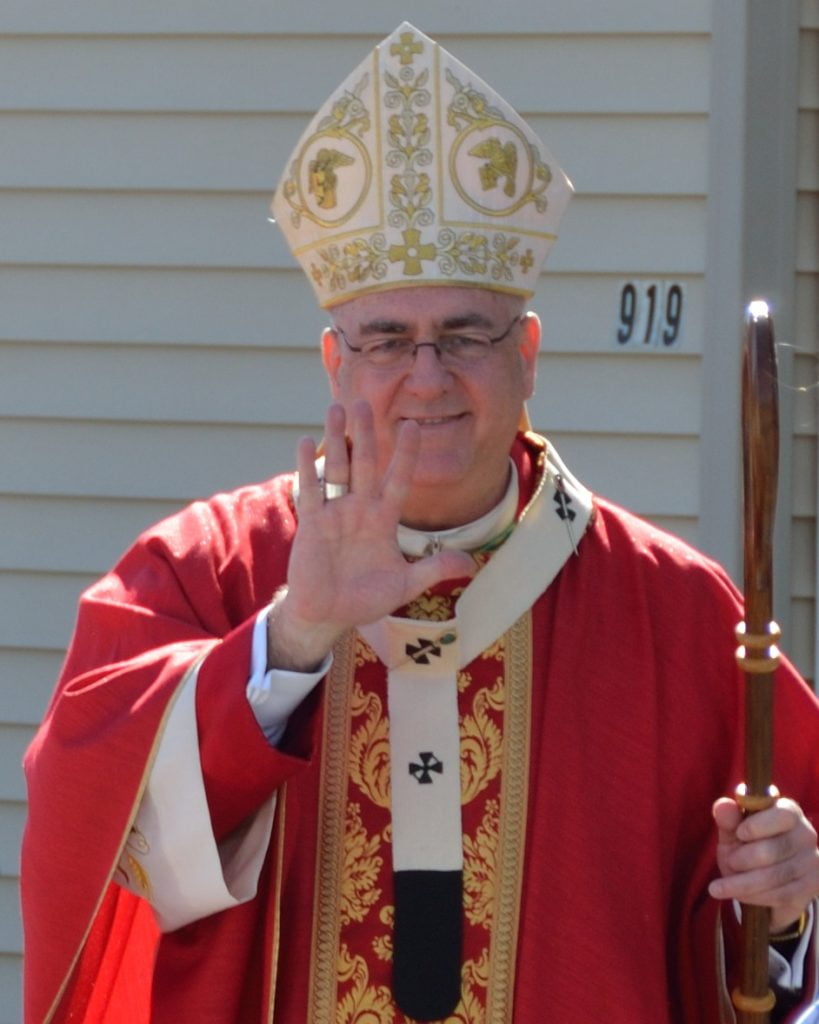 by Jill Ragar Esfeld
jill.esfeld@theleaven.org
People often ask me about my screen saver – it's a picture of Archbishop Joseph Naumann; and even I have to admit, he looks a little odd in it.
Why have the archbishop as my screen saver in the first place? And of all the pictures I've taken of him (and I've taken hundreds) why would I choose this one?
When I tell people it's my daily reminder to be like him, they're even more baffled.
So I often find myself telling the story behind this photograph.
It was taken in 2013, at the inauguration of the monastery of the Little Sisters of the Lamb.
It was a momentous occasion, and because of the anticipated crowd, the event was held outside.
Indeed hundreds of people were gathered everywhere — in folding chairs, in lawn chairs, on blankets and standing in groups all around — filling the street in front of the monastery and beyond.
Archbishop Naumann, along with more than 20 other religious, was across the street preparing for a grand procession through the large gathering.
As the procession formed, I ran to position myself in front of the archbishop, looking through my camera's viewfinder and focusing on his face.
The procession started, and I clicked the shutter. But just as I did so, the archbishop put his hand up; and this is the picture I captured.
What was he doing? Why had he put his hand in front of his face? I had no idea.
I looked up and realized he was stopping the procession.
Why?
It took me a few seconds of looking around. But I finally saw what the archbishop had immediately noticed on the peripheral of the scene — a young man with the flyer for the event in his hand, holding a child and hurrying toward us.
He was rushing to get to the event before the procession began.
I was impressed that in the midst of all the commotion and excitement, the archbishop noticed this one man.
More than that, I was impressed that he had stopped the procession so this man and his child could cross through and be part of the occasion.
I was impressed, but not surprised.
The picture doesn't just represent that day, or that moment. I've been following the archbishop around for years, and I've seen this behavior over and over again.
He has an uncanny ability to spot a person who needs his attention and ignore everything around him to focus on that one person.
I saw it the first time I met him. I was at a reception in his honor when he was being introduced to archdiocesan parishioners.
A woman was standing quietly behind him, just waiting to speak with him. Many people were crowded around him with punch and cookies, introducing themselves.
But he turned to this woman — like some sixth sense told him she was there.
When his attention was on her she explained that she'd just found out she had cancer.
He listened to her earnestly, blessed her and said he would pray for her.
It was a strange moment, because the whole room seemed to melt away as he focused intently on this one woman.
And I remember thinking to myself, "Here we have a shepherd."
In all the years I've followed and photographed the archbishop since, he has constantly reinforced this first impression.
I like this picture because it says so much about the kind of person he is. And I have it as my screen saver because it reminds me daily to be like him — to notice that person on the peripheral who needs my attention.
Here's the second picture I took the day of the monastery inauguration. I like it almost as much as the first. It shows a shepherd who has just helped a lost sheep.