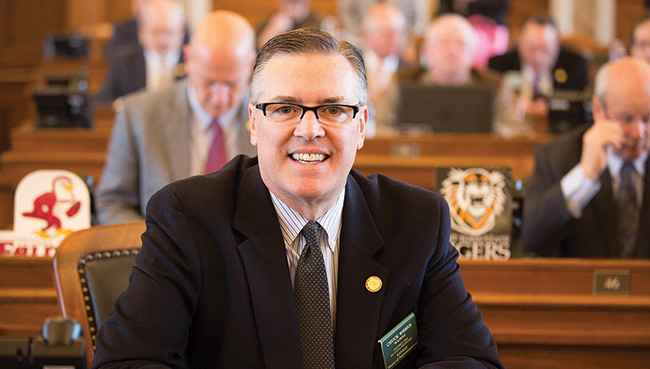 by Chuck Weber
After decades of decline, the Kansas abortion industry is once again flourishing.
Not only are more abortions being performed here, but Kansas is becoming the abortion destination of the Midwest.
The data is startling.
According to the Kansas Department of Health and Environment (KDHE), the number of abortions declined in Kansas by 44% from 1999 to 2019. During this two- decade period, Kansas passed more than 20 bipartisan pro-life laws.
Kansas abortions declined by an average of 15 per day. That's 15 tiny lives saved each day! Last year, that trend reversed itself in a deadly direction. Fueled by more out-of-state residents, abortions in Kansas increased by 9.1%.
Arkansas residents coming to Kansas clinics for abortions increased by 185%. The number of Oklahomans coming to Kansas for abortions rose 326%. Texas residents getting an abortion here rose by 1,156%. Today, more than half of all abortions in Kansas are now performed on out-of-state women.
The abortion industry predicted and celebrated this alarming trend.
In April of 2019 the Kansas Supreme Court discovered and created abortion to be a fundamental right and declared virtually all pro-life laws to be "presumed unconstitutional." Abortion industry lawyers crowed with delight.
A senior staff attorney at the Center for Reproductive Rights said the ruling was exactly what they had hoped for. It made it difficult for state legislators or the federal government to restrict access to abortion in Kansas.
According to attorney Genevieve Scott in a news report on April 26, 2019, in The Washington Post, "This will make Kansas a haven state [emphasis added] in the Midwest if federal laws protecting abortion are overturned or significantly limited or undercut in other states."
Kansas, a "haven state" for abortion? It's already happening.
The Kansas abortion industry is now virtually unregulated and unlimited. Laws may still be on the books, but once challenged in court, they will be declared unconstitutional, washed away like a sandcastle at high tide.
Taxpayer-funded abortion, teenage abortions without parental knowledge or consent and much more will almost certainly become commonplace.
Fortunately, Kansas Catholics can help slow the abortion industry's predatory assault on women facing a crisis pregnancy.
The proposed "Value Them Both" state constitutional amendment will simply say that abortion is not a fundamental right, and that the people of Kansas, through their duly elected representatives, can regulate the abortion industry. Our laws will once again be enforceable.
Knowledge is power. Please visit the website at: www.ValueThem Both.com to get the facts. Become involved. "Value Them Both" action cards are now available in Catholic parishes throughout the Archdiocese of Kansas City in Kansas. Attend a "Value Them Both" presentation in your parish.
Our Lady of Guadalupe, Patroness of the Unborn, pray for us!