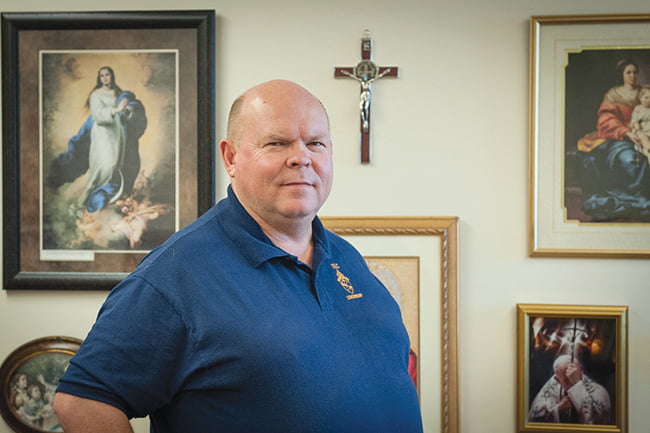 by Rick Cheek
About 10 years ago, I was constantly praying for and about my vocation.
After I had finally given up and told God, "OK, I'm OK with being single for the rest of my life," it was then that he brought my wife Rebecca into the picture. I was really OK with being single, too. However, it was when I gave it to God that the fruits of that prayer came to light. Too many times we ask God for what we want, and not what he wants for us.
Spending time in prayer is not the only way for you to discern your vocation. People discerning will often make a pilgrimage to a holy place to spend time in silence or with other people to figure out where God is calling them.
I was very blessed to spend time with my oldest son Jared at World Youth Day in Cologne, Germany, in 2005 before he died from a tragic automobile accident. Jared was in his second year of seminary when we attended World Youth Day together. It was through prayer and that pilgrimage that Jared knew that this was his calling.
The joy he experienced being a part of this time with millions of Catholics and other seminarians from all over the world was incredible.
Pope Benedict XVI's message to the young people still has so much meaning today and every day: "Do not be deterred from taking part in Sunday Mass, and help others to discover it, too. This is because the Eucharist releases the joy that we need so much, and we must learn to grasp it ever more deeply; we must learn to love it."
Those are memories I will cherish for as long as I live.
You too can make those same memories with your son or daughter. The next World Youth Day is just around the corner. If they have been praying about where God is leading them, Lisbon and Fatima, Portugal, would be a perfect pilgrimage destination.
When you really think about it, World Youth Day is more than just a day. It's a week filled with speakers, Mass and worship with people from 150 countries around the world.
Wow! Just, wow!
You will experience a transformation that will last a lifetime. That's what Jared experienced when he went in 2005. The theme for World Youth Day 2023 is: "Mary rose up and went with haste" (Lk 1:38).
In these next three years of Eucharistic Revival, make haste to grow deeper in your love of the eucharistic Lord.
I'm looking forward to seeing the transformation that will take place in the young and older people who will experience World Youth Day for the first time next year.