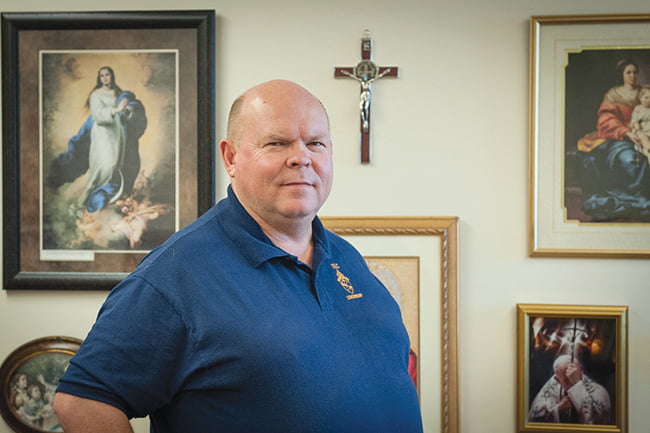 by Rick Cheek
About eight months ago at Mass at my parish, Divine Mercy in Gardner, I happened to look up during Communion and caught sight of a young man with Down syndrome look up at the crucifix and give Jesus a thumbs up after receiving Jesus.
The first thought I had was, "Oh, to have the faith of a child." Three weeks ago, I had a similar experience. I saw a young girl turn after receiving Jesus and she had the biggest smile on her face. There was so much joy in that smile. Wow! This is how we all should act after receiving Jesus.
In this second year of Eucharistic Amazement, I had the opportunity to go to Lisbon, Portugal, for World Youth Day 2023 with 87 pilgrims, including seminarians from the archdiocese along with Archbishop Naumann and 1.5 million other pilgrims from 180 countries around the world.
I admit that this WYD was a true pilgrimage with challenges I have normally not had to experience. While these were at times difficult, the graces that came to our group far outweighed those challenges.
The time we spent in Fatima was probably my favorite. Getting to visit the homes of Lucia, Francisco and Jacinta was amazing. To walk in their footsteps and to stand where the Blessed Mother appeared to these young visionaries was affirming to my daily rosary, a devotion Mary implored the children to perform faithfully every day.
One memory I will treasure is praying the Stations of the Cross with Father Dan Morris, our vocations director, and a few other pilgrims before we left for Lisbon, once again walking the same ground these three young children walked over 100 years ago.
Finally, WYD itself did not disappoint. Our time together the second evening in Lisbon with our U.S. pilgrims for eucharistic adoration and a talk by American bishops (including Archbishop Naumann) was amazing.
I was able to say hello to my son Jared's seminary professor, Bishop Robert Barron. He remembered Jared from his time at Mundelein Seminary and how he was an inspiration to his classmates.
The time we spent in eucharistic adoration with Bishop Barron and other bishops from around the United States was beautiful, and the silence was deafening.
Looking back on WYD, there were many graces affirming that our young people were where they need to be. St. John Paul II, at WYD in Denver in 1993, said, "It is Jesus that you seek when you dream of happiness; he is waiting for you when nothing else you find satisfies you."
In your most difficult times, seek the one who will bring you out of those most trying times. Seek him first in the Eucharist.