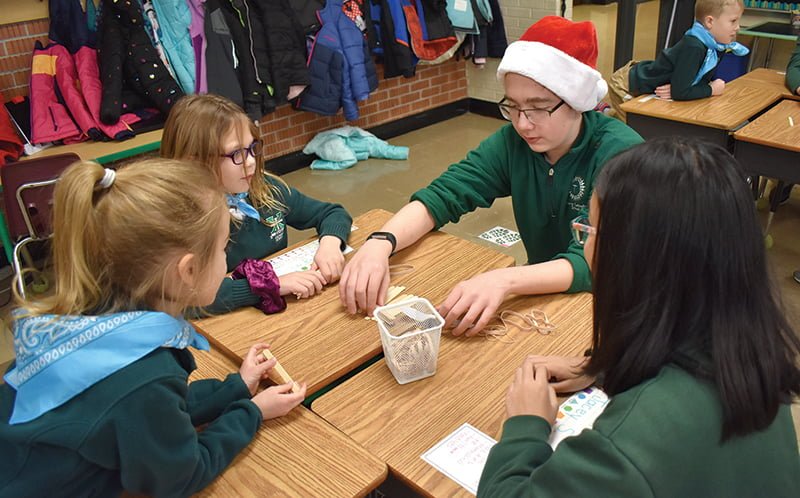 by Katie Peterson
Special to The Leaven
LEAVENWORTH — St. Dominic de Guzmán. St. Richard Pampuri. St. Hildegard of Bingen.
St. Francis of Assisi. St. Raphael Kalinowski. St. Isidore of Seville.
So many to choose from!
All of these saints are remembered, at least partly, for their achievements in science, technology, religion, engineering, art or mathematics. Which is why eighth-graders from Xavier Elementary School in Leavenworth were choosing among them when naming their group for the first STREAM Day Dec. 18.
"The future workforce is looking for people with the ability to independently think and cooperate with others in solving real world problems," said Emily Yantz, Xavier principal. "All students are unique in their personal situations, but everyone must adapt to the world they live in."
"The skills learned in STREAM can be applied anywhere," she continued. "I'm a firm believer in students learning by experiencing. It goes along with 'teach a man to fish, [and you feed him for a lifetime].'"
STREAM, an expansion of STEM, is a new curriculum being implemented by many dioceses throughout the country.
"The integration of religion and arts into STEM content areas merges 21st century teaching and learning with the timeless truths of faith and beauty in all of the subject areas," according to the National Catholic Educational Association.
"The founder of CODE.org, Hadi Partovi, said, 'Creativity means waking up with a crazy idea to change the world, and then doing it,'" said Cindy Scheier, Xavier middle school science teacher and organizer of the STREAM Day.
"We could be teaching the next big idea inventor, designer or someone that solves one of the world problems," she said.
Throughout the day itself, students in kindergarten through eighth grade split up into eight groups and rotated from classroom to classroom to participate in different activities, which related to one or more of the above themes.
Activities included programming robots, making 3D arts and crafts using recycled materials, competing in relay races, building Christmas peep catapults, learning about music and vibrations, playing with blocks and puzzles, learning how to suspend a book using just a piece of paper and a five-centimeter piece of tape, participating in eucharistic adoration and singing Christmas carols.
"I think it is absolutely imperative that our school is grounded in the latest and the most up-to-date ways to engage our students to be prepared for their futures," said Andrea Sladky, Xavier music and band teacher. "With technology being so close at hand, I think sometimes our kids have lost that sense of wonder because they can just go and find [the answer] immediately.
"A day like today creates curiosity and wonder and 'how can we do things,' and I think that leads to our students being more engaged and better citizens."
Eighth-grade student Jackson Lee said he most enjoyed learning to program the robots because he hopes to have a career in engineering when he grows up.
"I just fit into [engineering]," Lee said. "I love math and I love building models. I'm good at building stuff.
Which means STREAM Day was right up his alley.
"I think it is pretty great," he said. "We've been doing a bunch of things that can help kids understand what they want to do when they grow up and what they fit into."
Eighth-grade student Candace Garrett said she most enjoyed eucharistic adoration and singing Christmas carols in the school's chapel.
"Music and prayer are always important no matter what," Garrett said. "Prayer is always my center."
Being the oldest in the building, the eighth-grade students were a big part of helping the younger students throughout the day, which is what eighth-grader Evan Chmidling said he enjoyed most.
"It is an opportunity to learn more and show leadership skills," Chmidling said. "We can all learn a little bit more, and we all can come together and learn more about each other, too."
Lee said he also liked leading the younger students.
"It is kind of cool to be the one they look up to," Lee said. "It is important to be a model for them."
While STREAM Day offers benefits to any student, Xavier is unique because of its close proximity to Fort Leavenworth. Several students in the school are members of a military family, which means multiple relocations throughout their school-age years.
Sladky said she thought that made having a multi-grade STREAM Day that much more important.
"These activities help us to create those bonds across all grade levels, instead of just in our own grade," Sladky said. "Military students that are moving around — they are coming to a school where a lot of the kids have been together a long time. Sometimes, it is hard to fit in where they have close groups, but this is another day where you get to work with more kids in a greater area, making more friends and connecting to our school in a new way."
"There are nine different activities. You will have something for every kid that, when they walk away, they have found a passion or they found something that engages them," she added. "I think that is something they can continue on with when they go to their next school down the road.
"They will be able to say, 'I found this at Xavier, and I want to find that at my new school, too.'"