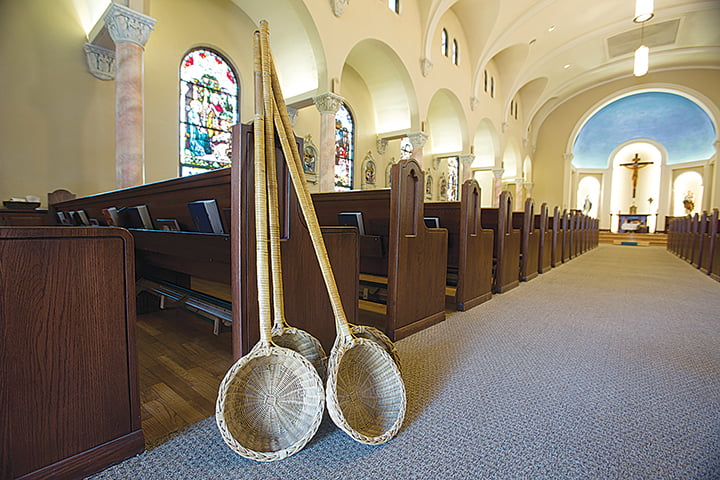 by Jan Dixon
Special to The Leaven
Many churches around the world now sit empty, their collection baskets bare.
But the 120 parishes in the 21 counties that comprise the Archdiocese of Kansas City in Kansas still have bills to pay and obligations to meet.
Parishes, schools and ministries are facing financial stress due to the cancellation of their various fundraising activities, like 5Ks, auctions and galas — while nonprofit organizations are experiencing much greater demands for their services.
With most of the country under "stay at home" orders due to the coronavirus threat, Catholics have been provided a unique opportunity to act as faithful stewards.
Now, directly from the safety of their own homes, they can come together to support the organizations that have been there for them all their lives — their parishes, schools and ministries.
#iGiveCatholic Together is a new online tool developed to aid with donations during the COVID-19 crisis. It is a global crowdfunding platform for giving.
The #iGiveCatholic campaign started five years ago as a way to connect parishes, dioceses, schools and ministries with Catholics who wished to donate to worthy causes once a year on Giving Tuesday.
But with the coronavirus pandemic shutting down weekend collections and fundraisers, the #iGiveCatholic campaign has been activated to provide those same Catholic organizations with a solution to keep funds flowing and their lifelines going, especially those without online portals already established.
"I have been impressed by #iGiveCatholic since it was first conceived as a secure and convenient opportunity for Catholics to affirm our faith by sharing our gifts out of love for God and one another," said Lesle Knop, executive director of the Catholic Foundation of Northeast Kansas of the archdiocese. "We are grateful to be able to offer this program now."
With charity at the heart of the church and needs within our communities greater than ever, donations can be made to parishes, schools and other organizations on the #iGiveCatholic Together platform.
"The main advantage for our parishes, schools and ministries to use the platform is it is already established and has national exposure," said Kathryn Robards, marketing coordinator for the Catholic Foundation of Northeast Kansas.
With "stay at home" orders in place, it's an immediate way to be able to donate to them, without using cash, and support their critical ministry.
"It is an advantage for donors to use the platform as a secure and safe way to contribute and remain engaged with their Catholic community during these unique times," Robards said.
"It is especially wonderful that donors have the freedom to safely donate from the comfort of their home," she continued. "They don't have to mail a check or drive a check to the parish. They can contribute via the online portal."
With a basic 1-2-3 click system, donors are able to locate the organization of their choice and make one or more donations. That's the beauty of #iGiveCatholic Together: It's not just parish-centered. It's parish, school and nonprofit ministry driven.
Saint Thomas Aquinas High School in Overland Park is just one of the many archdiocesan organizations participating in the program and using donations to meet the current needs.
"When the announcement came from #iGiveCatholic about utilizing their platform to solicit donations, we immediately jumped onboard and selected the Guardian Angel Fund to help our families who are experiencing hardship," said Amber Krumbholz, Aquinas' advancement officer for alumni relations.
Using #iGiveCatholic Together is an opportunity for parishes, schools and ministries to begin to address the looming financial stresses that lie ahead.
"I think the crowdfunding platform helps us unite as Catholics because it gives us options to support ministries that align with our Catholic beliefs and join together to make a bigger impact than each of us could do individually," said Debra Niesen, lead consultant for archdiocesan pro-life ministries.
Every gift will make a difference, say organizers. But collectively, archdiocesan Catholics can make a world of difference for the ministries they love — and that represent Christ's love to our brothers and sisters less fortunate than us.