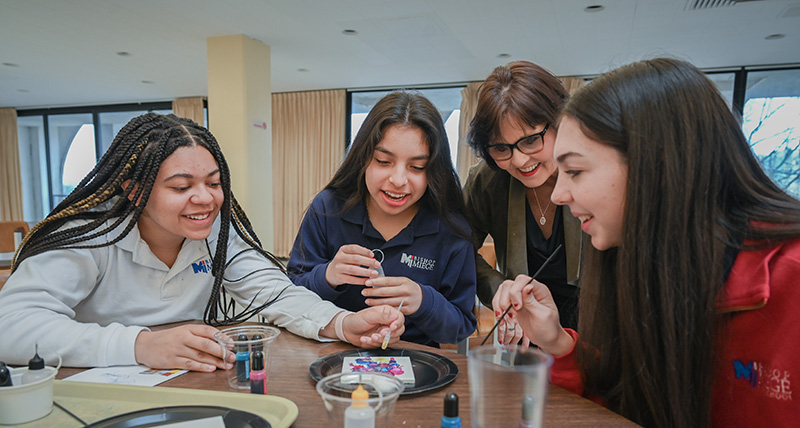 by Joe Bollig
joe.bollig@theleaven.org
KANSAS CITY, Kan. — Sometimes a picture is worth more than a thousand words, and Archbishop Joseph F. Naumann knows it.
Years ago, while he was in residence at the Cathedral Basilica of Saint Louis, he had occasion to celebrate Masses and preach homilies. Not everyone appreciated his homilies — but everyone did appreciate the stunning art on the basilica's walls and ceiling.
"I'd tell people if you're not getting anything out of the homily, just look up," said Archbishop Naumann. "You'll find something to inspire you and to inform."
Art is one of the ways the church has evangelized people through the ages until today, he told students, teachers, principals and archdiocesan staff during an awards presentation on March 3 during the Archbishop's Invitational High School Art Exhibit at Savior Pastoral Center in Kansas City, Kansas.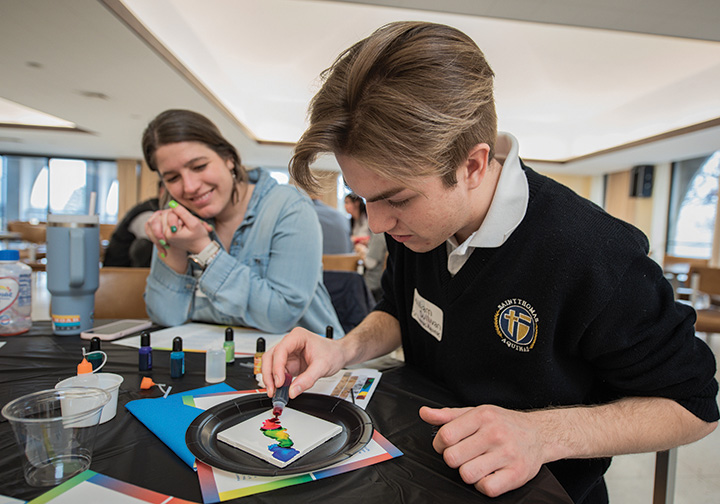 The theme this year, developed with the U.S. Conference of Catholic Bishops' three-year program of national Eucharistic Revival in mind, was: "Eucharist. May We Never Lose Our Wonder."
There were 36 art pieces on display produced by 31 students from five Catholic high schools: St. Thomas Aquinas High School in Overland Park; St. James Academy in Lenexa; Maur Hill-Mount Academy in Atchison; Bishop Miege High School in Roeland Park; and Bishop Ward High School in Kansas City, Kansas.
The artworks were displayed in a hallway on the northwest side of the Savior Pastoral Center main chapel. Some were for sale and, before the day was over, were purchased.
The annual exhibition was sponsored by the Catholic Foundation of Northeast Kansas, the Catholic Fine Arts Council and the archdiocesan school office.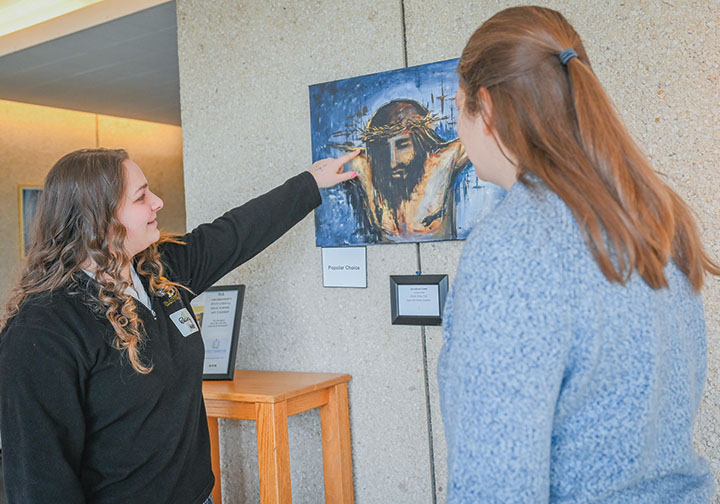 Six students won eight awards (See below). Each student who won an award received a $100 prize. The judges were: Father Gerard Alba, Julie Flanagan, Laney Haake and Barb Muzik.
The highest award — Archbishop's Choice — was won by Sofie Hyde, a senior at Bishop Miege.
Her work, "Hands of Salvation," features a shackled hand in darkness, closed in a fist, reaching toward an open, beckoning hand in light surrounded by a stylized, sunlike radiance.
"In our art class, we must have an overall theme," she said. "I chose duality. I chose to portray duality when it comes to religion, how someone can feel sometimes that they are not worthy of God's grace and love. That is why the shackled hand is hesitant. But Jesus still reaches out with an open hand. I wanted to portray the struggles I've felt being accepted by Jesus."
The next highest award — Superintendent's Choice — was won by Felicity West, a senior at Maur Hill-Mount Academy.
Her piece, "Sacrificial Lamb," also won Popular Choice. It shows a close-up of the face of a brutalized, crucified Christ. The background is black and gray. Small, almost splinter-like cross-shaped objects are in the background. Half of Jesus' face is totally black while the other is in light. His eyes are closed, and his face is still, almost calm. The mark of the Roman soldier's spear is clearly on the left side of his chest.
"I often draw my inspiration from other artists," said West. "This one was inspired by Fritz Leotis' 'The Passion.' I took his painting and made it my own — it's not a copy. I used his [piece] as a base. I like to involve emotional colors into my designs. They are emotional the way they are painted."
The only other student to win two awards was Sophia Werkowitch, a sophomore from St. Thomas Aquinas.
She won two Juror's Choice awards for her works "In Persona Christi" and "Sacrifice of Love." The former shows the hand of a priest, with the stigmata, reaching forward to offer the Eucharist. The later shows a hand, the background black, offering a realistic and wounded human heart that is bleeding. A child's hand reaches up from below to cup the bottom of the heart in a kind of embrace.
"In 'Sacrifice of Love,' I did it completely without a reference, so it definitely took a long time working on it," said Werkowitch. "The heart is supposed to [symbolize] the Eucharist, [Jesus'] heart bleeding — his blood. It shows Jesus' hand holding his heart to a childlike hand to signify childlike wonder.
"In 'Persona Christi,' the priest's hand has the stigmata to show the priest acts as a body for Christ in the giving of the Eucharist."
The event began with a light breakfast accompanied with music by the Bishop Miege Mixed Wind Ensemble.
It was followed by a welcome by archdiocesan associate superintendent of schools Allison Carney; a blessing and comments by Archbishop Naumann; an interactive art activity by Julie Flanagan; the awards presentation; and final remarks and a prayer by Archbishop Naumann.
View the full album of photos from the exhibit here.