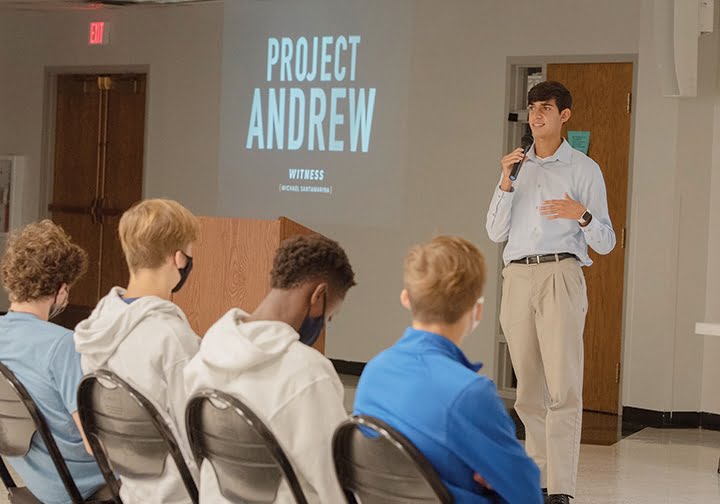 by Joe Bollig
joe.bollig@theleaven.org
KANSAS CITY, Kan. — What's it like to discern a vocation to the priesthood? Two groups of high school-aged young men participating in Project Andrew learned this: It isn't a scavenger hunt.
Twenty-seven young men met on Sept. 27 at Prince of Peace Parish in Olathe, and 12 met on Oct. 4 at St. Joseph Parish in Topeka, for an afternoon learning about the seminary, seminarians and trying to determine if they were being called to the priesthood.
"I spoke about my discernment over the past six years in [the] seminary and how formation has affected that," said seminarian George Rhodes, now in his sixth year at Kenrick-Glennon Seminary in St. Louis.
"I emphasized how vocational discernment is more of a relational thing than it is a scavenger hunt," he added. "It's not about trying to use clues to figure out what God wants of you, but it's more about learning to love and trust God and being able to follow his voice wherever it takes you."
Project Andrew is the archdiocese's entry-level discernment event for high school-aged men, said Father Dan Morris, vocation director of the Archdiocese of Kansas City in Kansas. It is named for St. Andrew, the first one called by Jesus to come follow him and be an apostle.
Participants heard witness talks by a high school-aged young man who was in discernment about entering the seminary, by seminarian Rhodes and by Father Greg Hammes, pastor of Prince of Peace Parish in Olathe.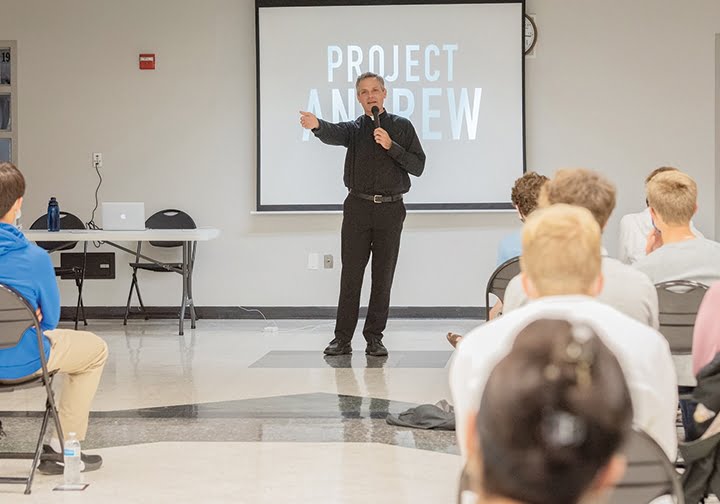 Rhodes talked about what it was like in the seminary, the stages of formation and how his discernment has deepened and clarified through his years of study and formation.
"A lot of young people especially, who are eager to discern their vocation . . . put a lot of pressure [on themselves] trying to figure out what God wants," said Rhodes, "but it's really not about that. It's less about what the call is and more about the One who calls. It's not so much trying to find answers to our own questions, but learning to hear the voice of the One who is leading us in the first place."
Father Hammes shared some powerful stories about his 13 years as a priest, highlighting "both the glory and the cross," of the priesthood, said Father Morris.
"[He said] all vocations require similar stories, whether you are called to marriage or priesthood," said Father Morris. "It's going to require sacrifice if you're living it right, but it's also going to fill you with life."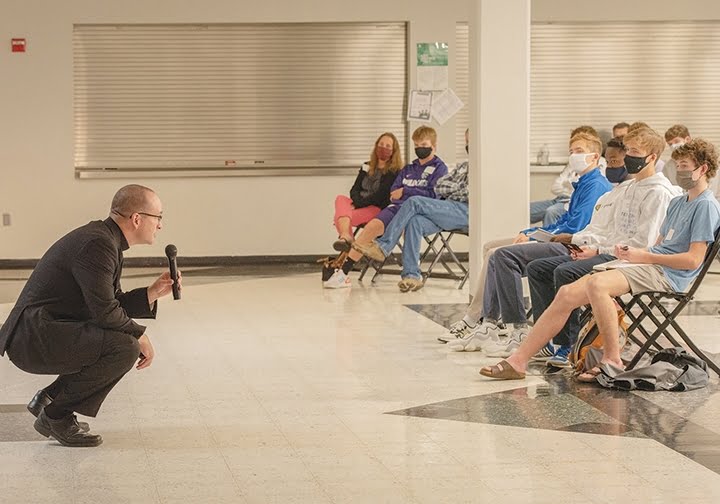 One of the participants was Ryan Gitobu, a junior at St. Thomas Aquinas High School in Overland Park. He's a member of St. Michael the Archangel Parish in Leawood.
He was invited to attend by his pastor, Father Brian Schieber, during an outdoor youth group movie night.
"I felt pretty good about it, since he took the time to call me out and invite me to it," said Gitobu. "It felt pretty special."
Gitobu vaguely considered the idea of a vocation to the priesthood earlier in his life, but at the time of the invitation, he didn't feel particularly drawn to the idea. Participation in Project Andrew got him interested again.
Juan Vazquez, a junior at Bishop Ward High School in Kansas City, Kansas, was at Camp Tekakwitha, Prairie Star Ranch in Williamsburg, when he received an invitation from Father Morris.
"I think he just saw something in me that he didn't see in some of the other campers," said Vazquez, a member of Christ the King Parish in Kansas City, Kansas. "Maybe it was divine inspiration, God telling him to invite me."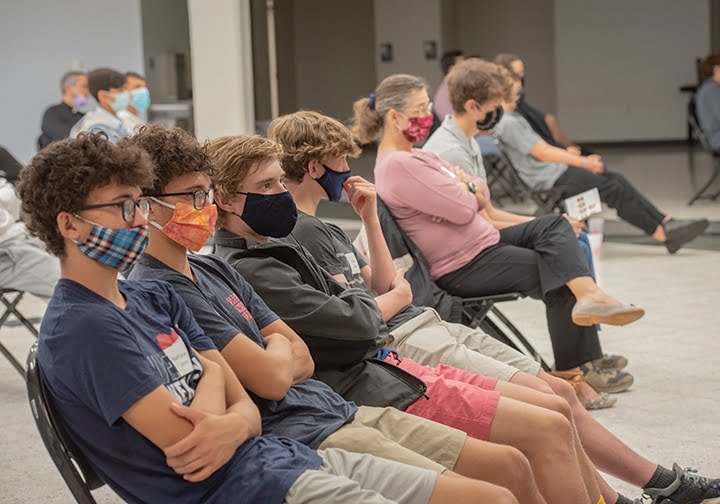 Vazquez also had thought about a vocation to the priesthood earlier in his life, but it hadn't crossed his mind at camp.
"As first, I was confused: Why would this priest who doesn't really know me invite me to something bigger than myself?" he asked. "And then I realized it wasn't a coincidence. It was meant to happen."
Something new to Project Andrew this year is what comes after the main event: the creation of weekly discernment groups.
"That's what Jesus did with the apostles," said Father Morris. "He didn't just meet them one afternoon on the shoreline of the Sea of Galilee and say, 'Think about being a priest.'
"He said, 'Follow me,' and, for the next three years, those guys followed Jesus. Only by following Jesus do you learn that's the particular call he's calling you to.
"The true Project Andrew invitation is: Are you willing to journey with Jesus Christ in an intentional way for the next year and go deeper in this exploration of this calling?"
Eighteen high school-aged participants will meet 9:30-11 a.m. each Saturday at Good Shepherd Parish in Shawnee, with seven likely to join later. Seven young men will meet at St. Joseph Parish in Topeka, although a time and day have not been set.
Any high school-aged young man may participate in the two new vocation discernment groups even if they have not participated in Project Andrew this year. For information, call Father Morris at (913) 647-0356, or send an email to: dmorris@archkck.org.