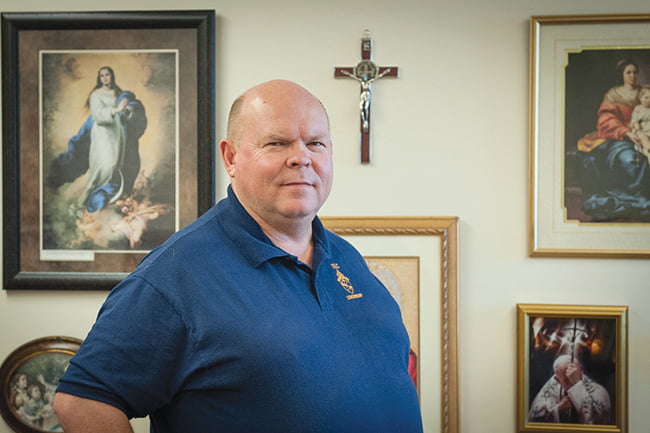 by Rick Cheek
I was blindsided by the reading from John's Gospel on the Fifth Sunday of Easter when Jesus says: "Whoever remains in me and I in him will bear much fruit, because without me you can do nothing."
The "without me you can do nothing" statement reminded me of my old way of thinking about heaven and hell. I used to say, "If I make it to purgatory, I'll be happy"; basically, just enough to fulfill my "Catholic" obligation and handing on the faith to my family.
A long time ago, someone told me, "Being happy with purgatory is like being the worst possible Catholic you can be without going to hell." This helped me realize I really need to go beyond the bare minimum.
With summer upon us and schools letting out, soon you might be looking for opportunities to spend time with your children, both young and adult.
While there's plenty out there to do, what are you going to do to make sure they stay connected to their faith this summer and not get sidetracked with things that are not important? We really need to go beyond the bare minimum.
Take some vacation time away from your screens. I know for some of us that could be really difficult. We are so connected these days that we miss what's going on around us.
I see younger children with electronic devices because it's easier to keep them occupied with technology than to connect with them on a personal level.
Family Camp would also be a great way to "Explore Truth, Beauty and Goodness." It is among the holiest things in the world for families to spend time growing together.
Camp Tekakwitha's mission statement is to connect youth and families to Christ. There is no better way than to dive into teaching our young people how to love, pray, be faithful, stay positive and to practice "I'm third" in the everyday life of our church. Putting God first in our daily life is what he wants from us.
If you have a child with special needs, there's a camp this summer just for them. The youth office, in collaboration with the archdiocesan office for special needs will be hosting a three-day camp adventure that celebrates faith and unity.
Here you have time to eat, pray and do activities together. Parents will have time to build community with other parents as well. Activities will be adapted and/ or modified as needed to accommodate. Visit the website at: www.archkck.org/camp.
If you have a teen preparing for high school or college, our Teens Encounter Christ program (www.sunflowertec.org) is a way for them to connect to their faith on a more personal level before entering high school or going off to college.
As always, we want to help you connect and grow. If there's anything you need, email us at: youth2@archkck.org or call (913) 284-1725.