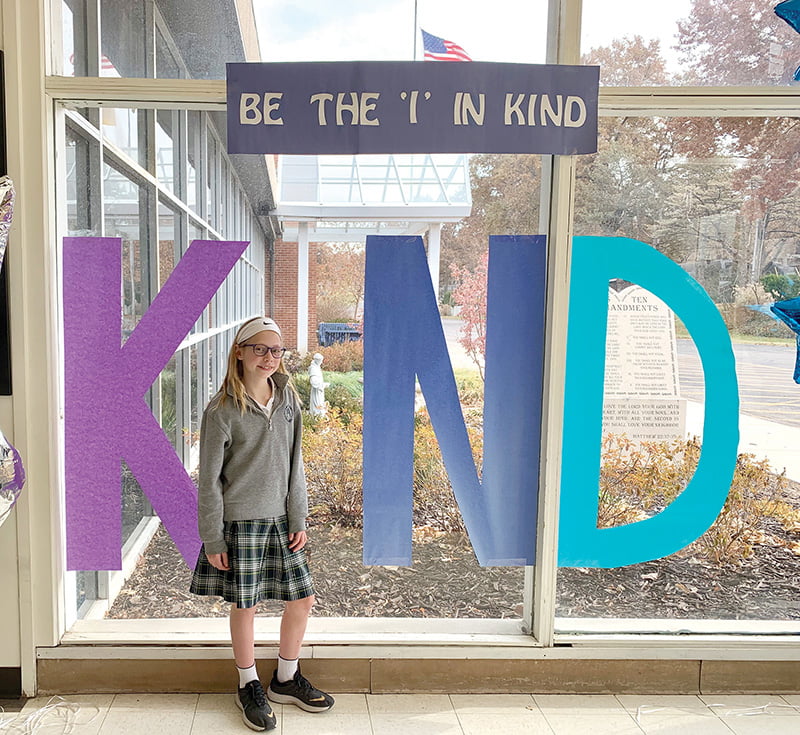 by Jan Dixon
Special to The Leaven
PRAIRIE VILLAGE — Children who make a difference are inspirational, reminding us that no matter how bleak things seem, there are kids who want to make the world a brighter place.
Gracen Thibault is one of those kids.
"I like to help others," she said. "I like to put a smile on people's faces."
A sixth-grade student at St. Ann School in Prairie Village, Gracen has happily participated in several school-wide activities to help others.
Students complete a monthly Act of Kindness project for others. So far this year, they've done a coat drive, a book drive and raked leaves for older parishioners in the community. More recently, a Halloween candy drive was held and the candy was sent to the troops.
Upcoming will be the school's Red Bag project, which helps families with foster children have a better Christmas.
As the oldest child in her family, Gracen is used to helping. So, when a school family lost their dad, Dave Akins, last August after a three-year battle with cancer, she wanted to help.
The St. Ann community was already reaching out to the Akins family by providing meals and house cleaning, driving children to activities and babysitting.
"But Gracen recognized that Mrs. Akins did not work and now had five young children to take care of on her own. She wanted to do more," said Emily Thibault, her mother.
After seeing a social media post about a T-shirt fundraising project being done in another state, Gracen decided to start one for the Akins family.
At the funeral Mass, the family wore Carolina blue and the celebrant talked about Dave's love for University of North Carolina basketball and ended the homily with the word "swish."
Gracen set up her online fundraiser and put the word out on social media. People were encouraged to purchase a "swish" T-shirt in blue, white or gray. Proceeds were directed to the Akins family.
To date, 270 shirts have been sold and over $3000 raised.
"I picked T-shirts because people like to wear them," said Gracen. "I picked North Carolina colors because that was Dave's favorite."
"I have to say they are so comfy and it brings me joy to wear mine," said Liz Minks, school principal.
Gracen and her mom reached out to Coach Roy Williams at the University of North Carolina to tell him about a great fan and the T-shirt project.
In a response letter, Williams said: "I know Dave was a true Tar Heel and is in Carolina blue heaven looking down on you." And he ended his letter with "swish."
Students and staff will be wearing their "swish" shirts on school Spirit Days to show continued support for the Akins family.
The staff and parents at St. Ann School want the spirit of giving to be a way of life for their children. The students are finding ways to make charity become a habit.
"Gracen's project is a wonderful example of faith in action," said Karen Kroh, assistant superintendent of student services for the archdiocese. "She is truly taking care of her neighbor."
T-shirts can still be purchased online. Gracen's fundraising journey can be followed on Instagram @tweenybirdkc.
In a world where you can be anything, Gracen has chosen to be kind.