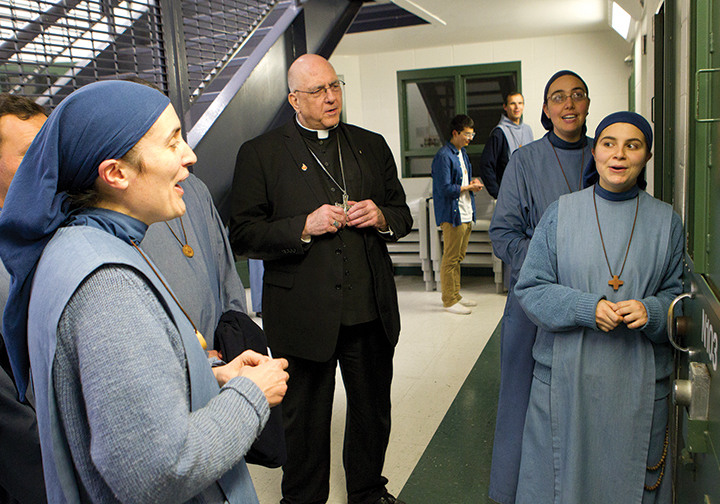 Leaven photographers and reporters are not usually given a say in their assignments. Until now.
When debating ways to celebrate Catholic Press Month, the youngest among us suggested that Leaven writers and photographers write just a short piece about his or her most memorable Leaven assignment.
Ahhhhh, for the springtime of youth! For while that was a piece of cake for our young heroine, senior reporter Joe Bollig had to figuratively plow through thousands of stories to fulfill the assignment.
No matter. The deed is done. We hope you will enjoy revisiting some of our stories, this time through the eyes of the person who first brought them to these pages.
'It's impossible to manually focus through tears'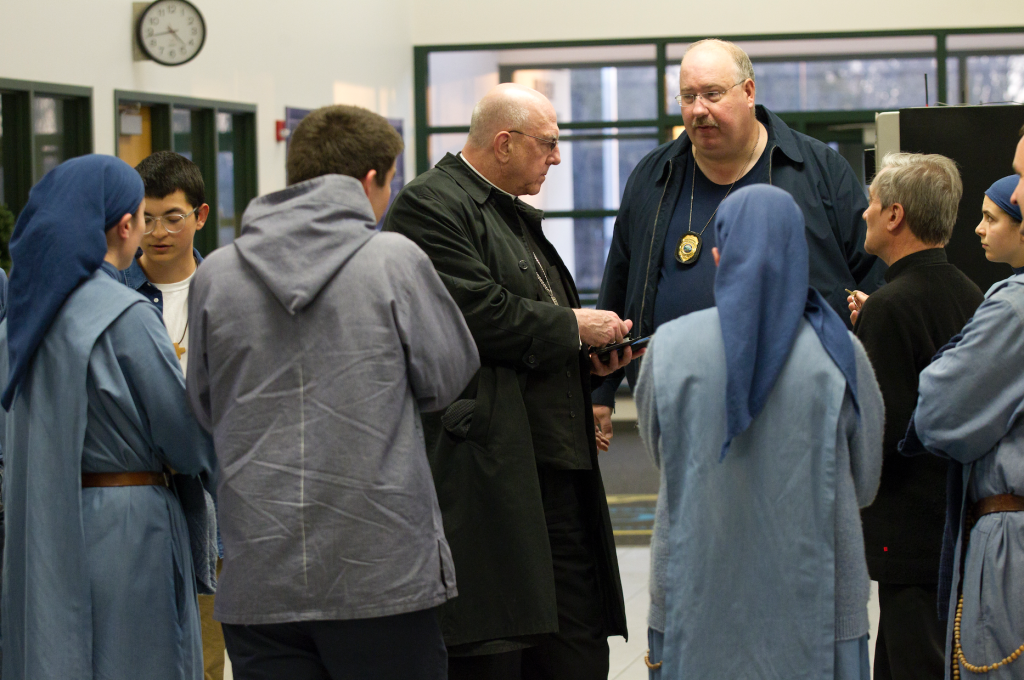 by Jay Soldner
Freelance photographer
I witnessed a 14-year-old boy crying on his birthday. No party. No friends. His parents didn't come. I saw this at the Juvenile Detention Center in Topeka, and it was such a poignant moment that it's stayed with me since. Locked up in jail on your 14th birthday. Imagine that.
The assignment was really like no other. I had to undergo background checks, submit my Catholic press credentials and copies of my driver's license, and sign documents. I had to agree to let the prison officials look through my images after I'd made them. I watched the archbishop leave his keys and cellphone in a locker and have to go through security. I saw the Little Sisters of the Lamb put their baby Jesus figurine through the X-ray machine!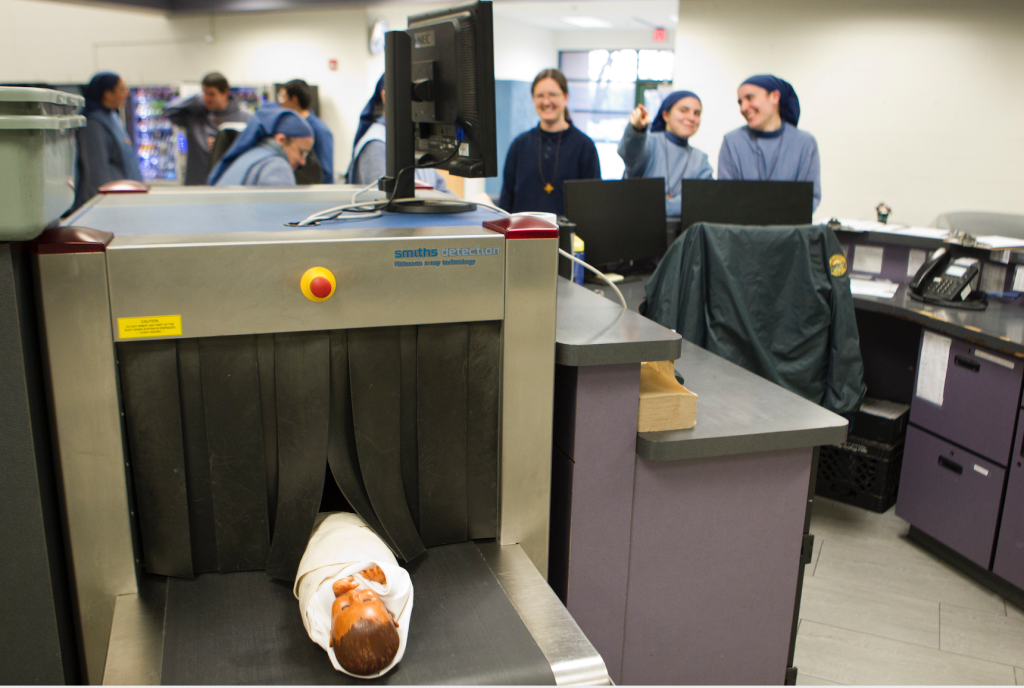 We were all escorted through multiple locked doors with the quintessential, loud BUZZ each time until we finally made our way into the gymnasium. It was a regular gym. Basketball goals and hardwood floors. Rows of chairs were lined up for the skit just like you'd see at any junior-high play or concert.
The first hour or so of the assignment was literally scripted. The Little Sisters of the Lamb put on a skit about St. Francis of Assisi. Archbishop Naumann talked to the young inmates and answered questions from anyone who had one. One teenager asked him what his cross and chain were worth.
I shot photos of the goings-on.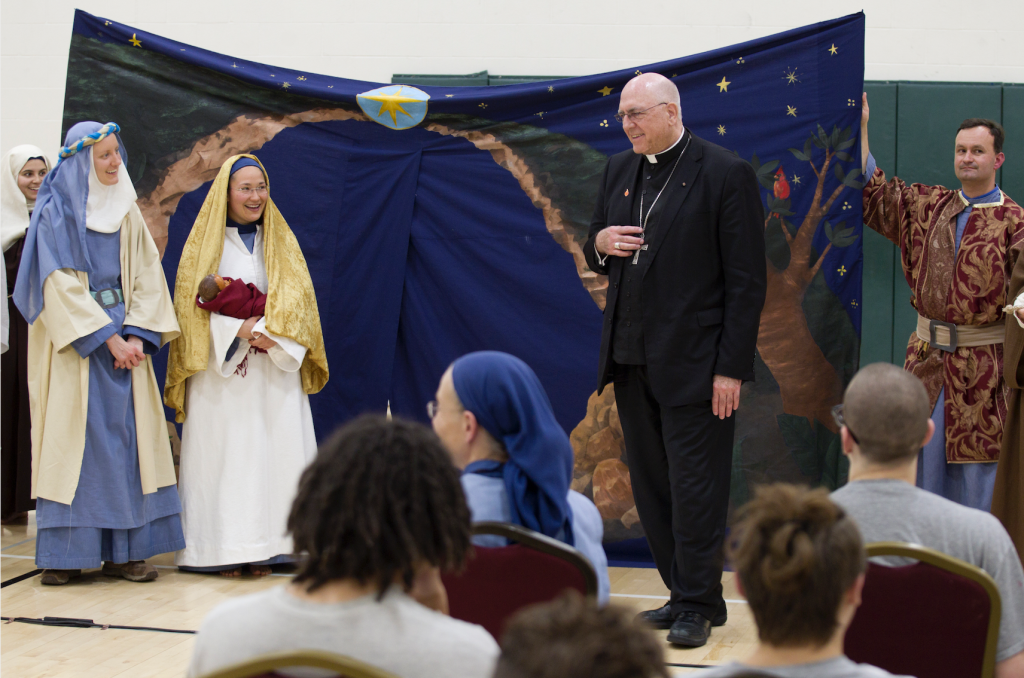 After the Q&A session with the archbishop wrapped, I thought we would just pack up and leave. But Father Joe Chontos, the chaplain at the detention center, asked the archbishop and the Little Brothers and Sisters if they would like to visit with some of the kids behind bars, those young inmates not selected to come to the gym for the skit and talking session.
We left the gym and again went through a series of locked, buzzing doors, following the guards down a really long hallway to a cellblock. Once we were buzzed in, the Little Sisters and Brothers and the archbishop wasted no time in getting right up close to the little window in the cell doors and started talking with the young prisoners.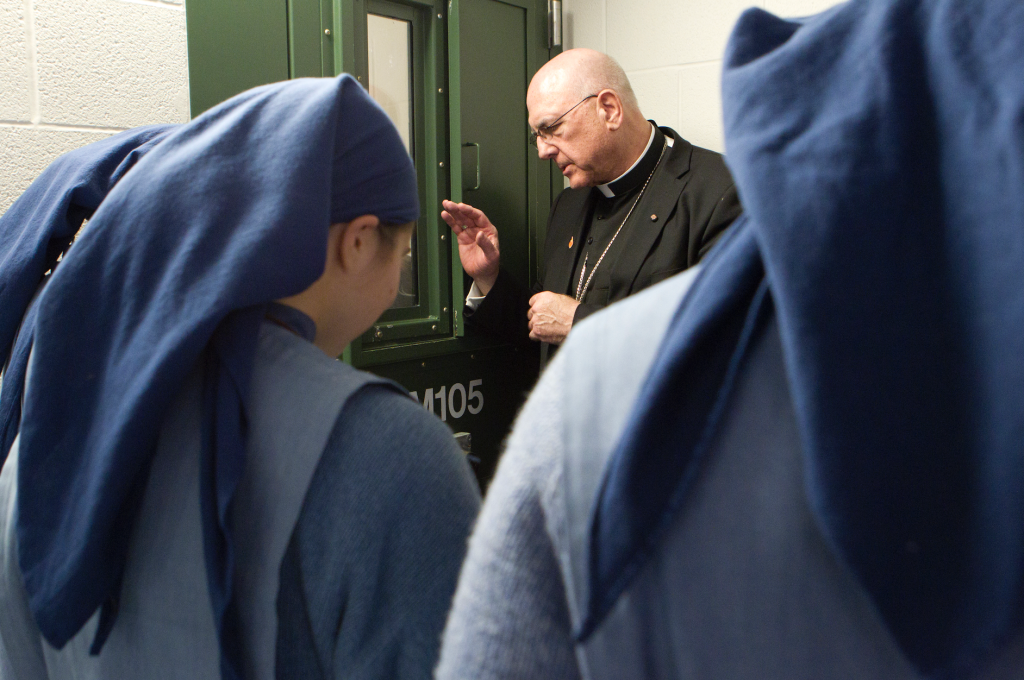 I confess I had to rely on my camera's autofocus to get me through the rest of the night . . . as it's impossible to manually focus through tears. Yet, I knew I had a responsibility to let our readers see a glimpse of the reality and make images that provoked deeper feelings and thought.
That last bit of the passage from Matthew's Gospel where it says "When did we see you sick or in prison and go to visit you?" (25:34-40) was clearly on my mind as I watched these religious interact with the inmates. Real conversations right away. The religious men and women talking to these kids — that was an amazing scene of hope and love among such desolation and despair.
I couldn't — and wouldn't — show all of what I saw to the readers of The Leaven, because I didn't want to exploit anyone. And because, thankfully, the kids locked up in juvie still have rights — and I wasn't allowed to photograph their faces.
But I saw them. I saw kids locked up. I saw the faces of children behind bars. Someone's young sons and daughters. Children in prison. And my heart broke.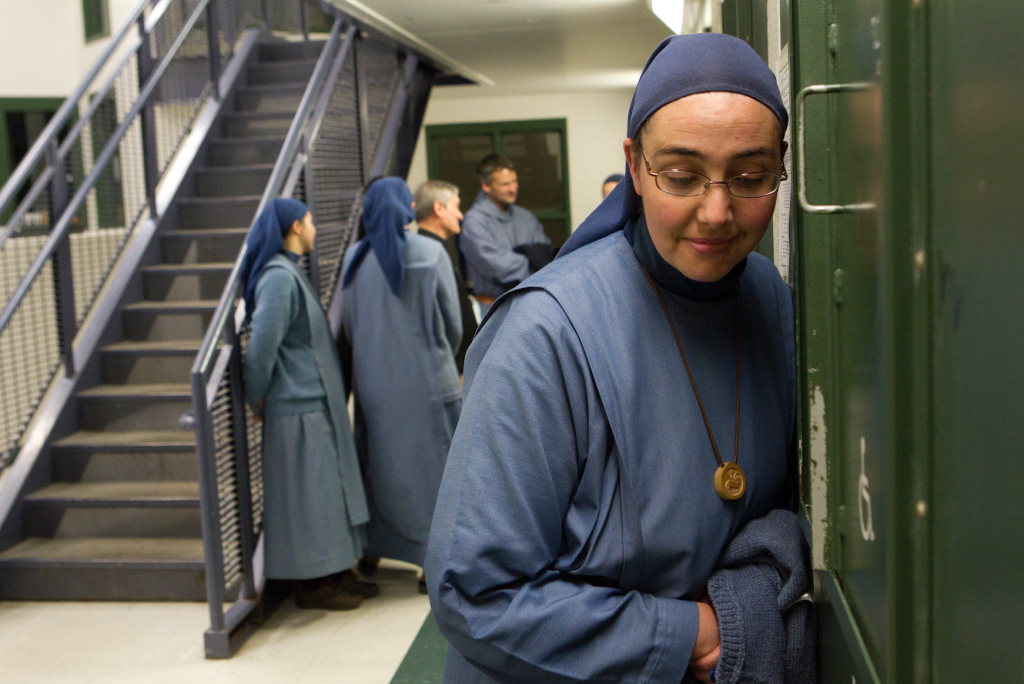 And the one celebrating a birthday? He was 14 that day. He cried with the Little Sisters of the Lamb as they talked about his favorite books and his hopes for the future. He was an avid reader and wanted to go deep into C.S. Lewis with the Little Brothers and Sisters.
His only visitors for his birthday were prison guards until Father Chontos introduced the religious men and women to his cellblock.
Archbishop Naumann, the Little Sisters of the Lamb, the Little Brothers of the Lamb and myself became his birthday party. We sang "Happy Birthday" to him. He cried his eyes out.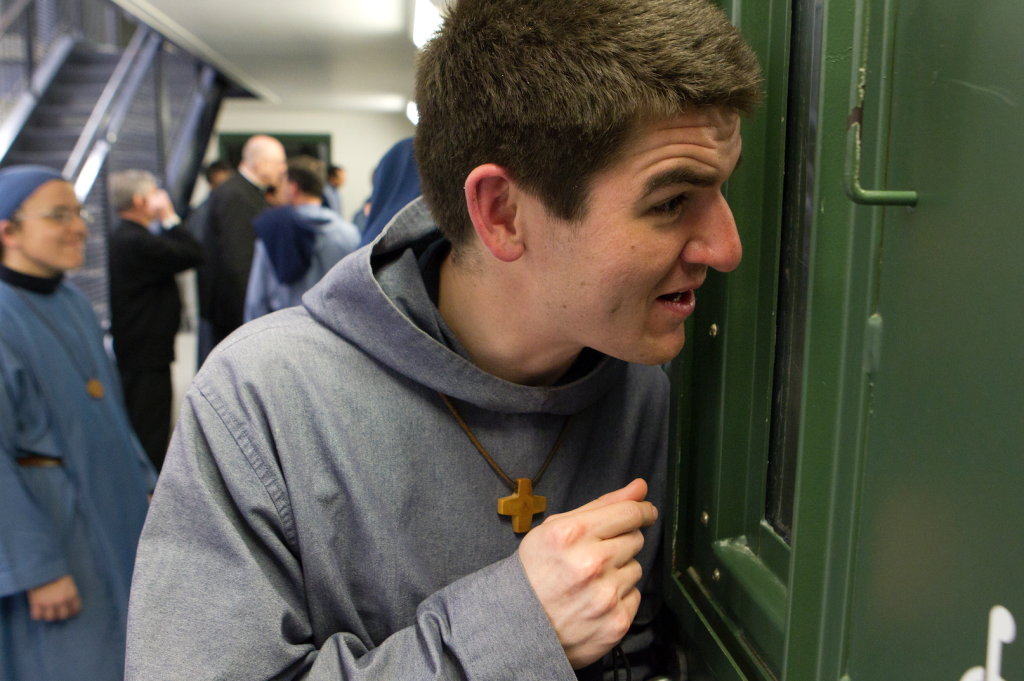 He was the one light in the prison, however, that saved me from leaving there a complete wreck of emotions. He gave me instead something to meditate on. Although it was dim, he did have hope instead of despair. He had dreams. And he had plans for when he'd get out. I hope he made it.
The Juvenile Detention Center in Topeka is not only my most memorable assignment for The Leaven, but it's a lasting, lifetime memory as well.
How does he choose? Reporter has seen it all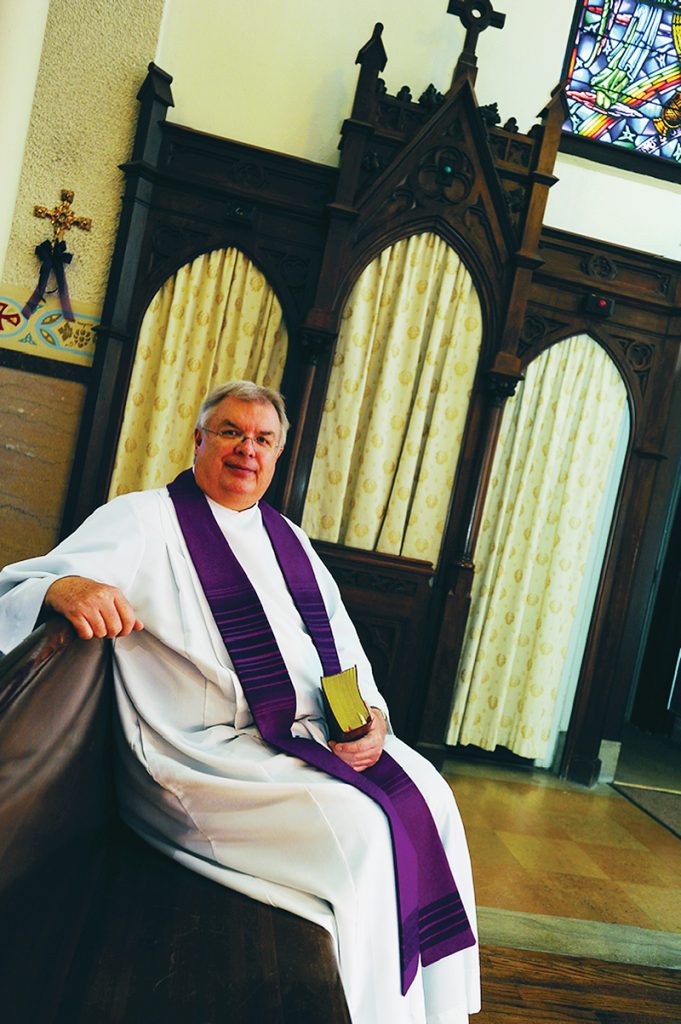 by Joe Bollig
joe.bollig@theleaven.org
The assignment was to write a few, short paragraphs about my favorite moment (or story or photograph) while working at The Leaven, something for Catholic Press Month.
For a person like me, that's an impossible task.
My tenure at The Leaven has been long — I won't say how long, but I remember getting excited the day we could access America Online.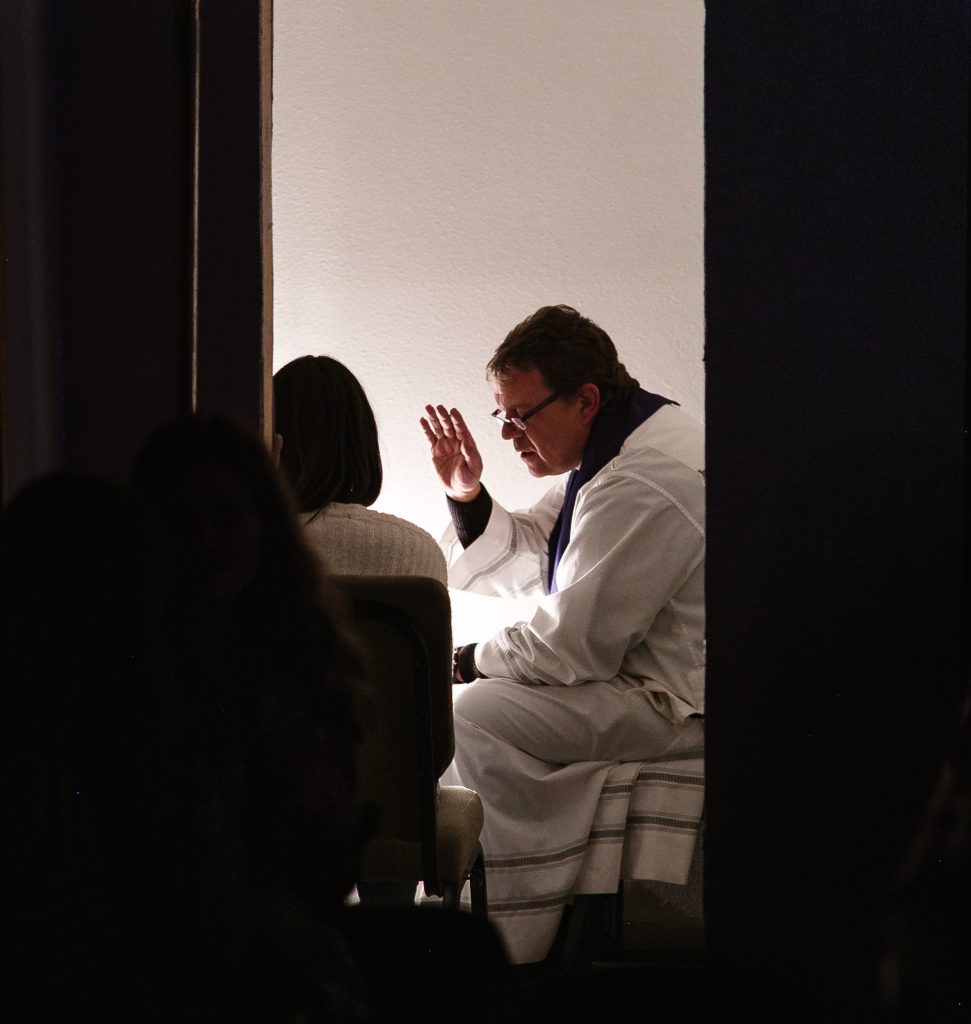 There have been so many stories . . . so many places . . . so many situations . . . so many people. How could I possibly remember them, must less have a "favorite"?
Coverage of the post-Hurricane Mitch recovery efforts in Honduras was interesting. My ride in a B-17 bomber reporting on former WWII and Flying Fortress pilot Emerson Shields was a thrill. Writing for some of our special issues on the priesthood and rural life was challenging. Visits to Prairie Star Ranch were special, although I was always an outside observer parachuting in. Seeing Pope John Paul II and meeting tons of pilgrims at World Youth Day in Toronto was great.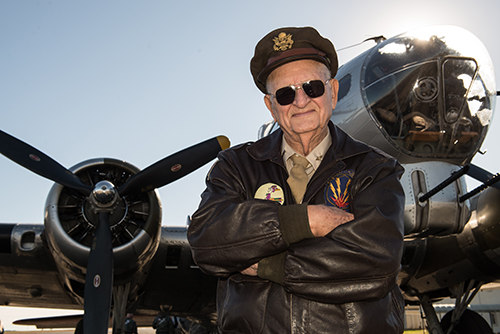 I even got to go to a Catholic Press Association convention, once.
But what is The Leaven all about anyway? Ultimately, its mission is the same as the Catholic Church: the salvation of souls.
So, if pressed, I'd have to say one truly meaningful story was "People really need confession," in the issue of April 8, 2011. In this story, Father Harry Schneider gave me wonderful, touching anecdotes and thoughts about this great sacrament.
A woman, whose name I can't remember, contacted me about the story. She'd been estranged from the Catholic faith for more than a decade but reading Father Schneider's words gave her the courage to go to confession.
At long last, she had joy and peace, and her return began with a story in The Leaven.
Small town fish fry captures the heart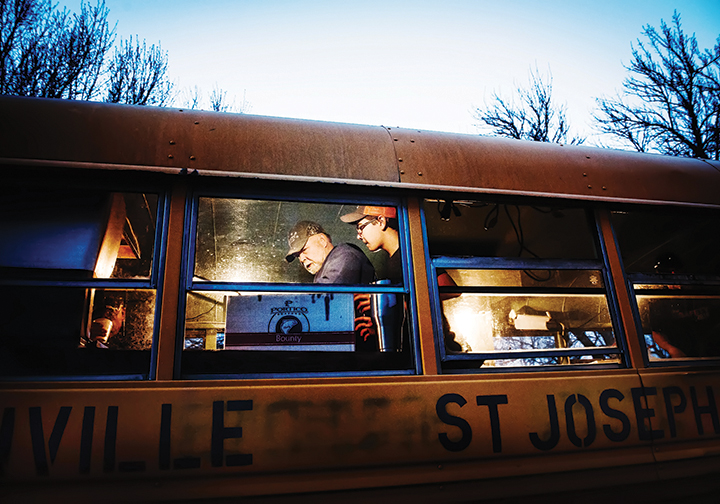 by Todd Habiger
todd.habiger@theleaven.org
My wife Lori and I grew up in small, rural Kansas towns — me in Iola; Lori in Westphalia.
Growing up in these small communities in many ways shaped our lives. Don't get me wrong — I love the city. But you don't have that tightknit community that comes from living in a small town where everyone went to school together and everyone knows each other.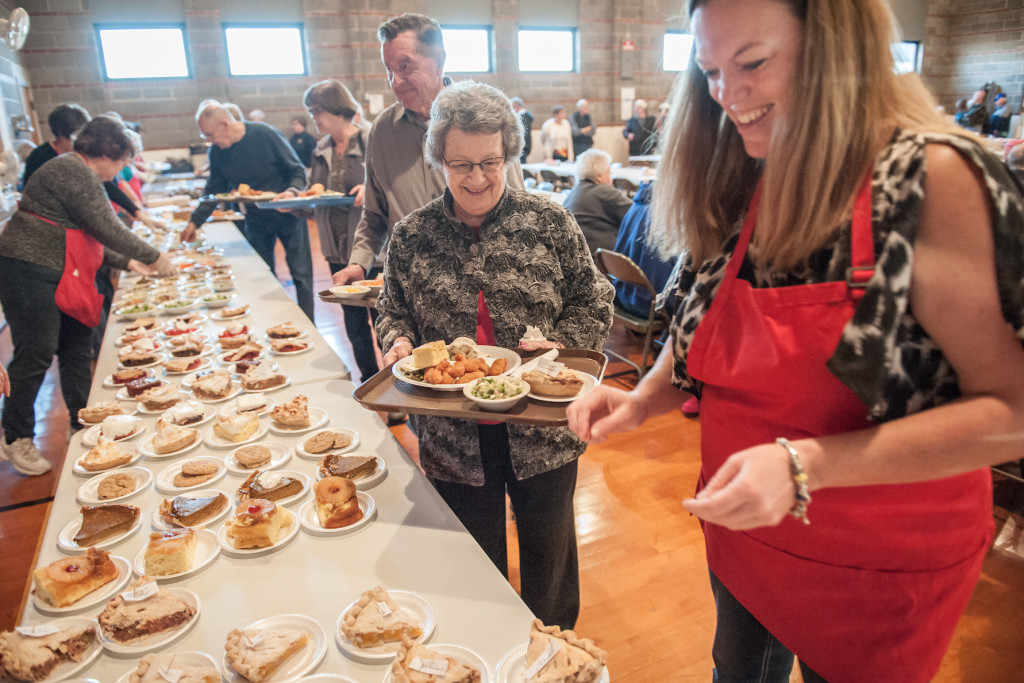 Together, we did an article called "The fish that saved Nortonville" that involved a small community — anchored by St. Joseph Parish in Nortonville — coming together to run one of the most impressive Lenten fish fries I've ever seen for the benefit of its church.
This was classic, small-town stuff. The fish was cooked in an old school bus that was reconditioned from a space for hauling kids to a mobile, fish-cooking unit. See, small town people don't buy new; they use and adapt what they have. The bus was an amazing piece of small-town ingenuity.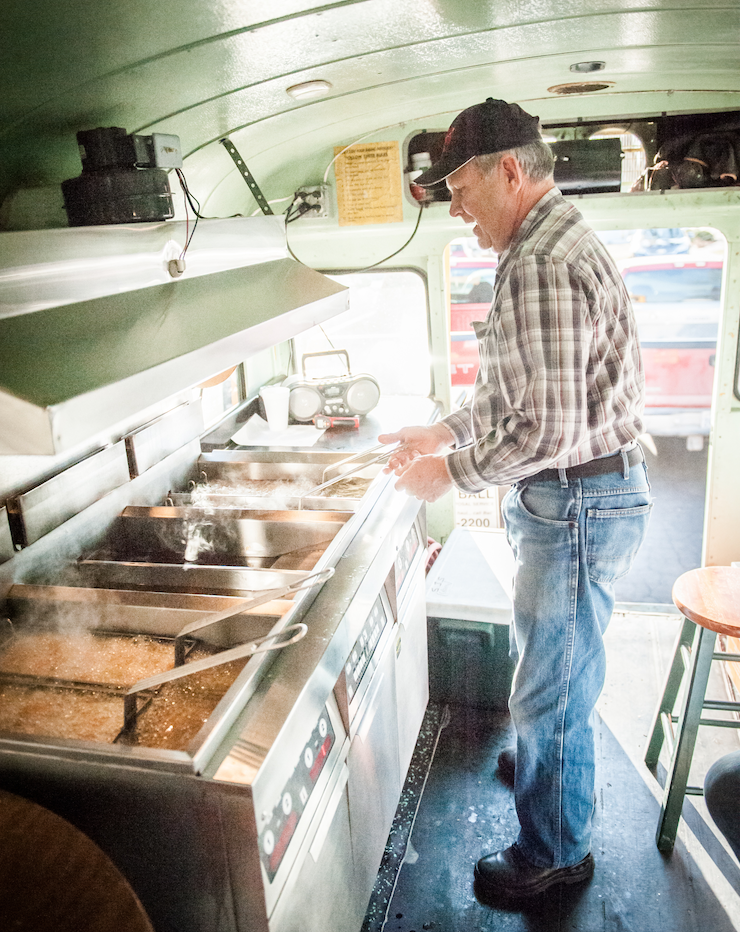 And the atmosphere was amazing. There were young kids outside taking tickets. The women of the church were in charge of desserts and sides. And the men? They were cooking the fish to perfection inside the bus. People came from far and wide for this fish fry.
As a small-town guy at heart, I love seeing a community come together.
Chiefs superfan wins a fan herself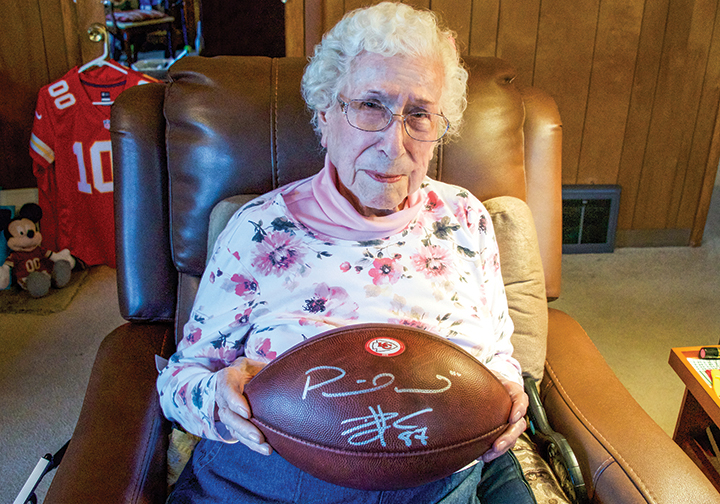 by Moira Cullings
moira.cullings@theleaven.org
A life-size cardboard cutout of Kansas City Chiefs tight end Travis Kelce greeted me as I walked into Melba Mills' living room in the fall of 2019.
I knew I was in for a treat.
I've met countless people in my role as a writer for The Leaven over the years. But Melba, who was 100 years old at the time, was someone I'll never forget.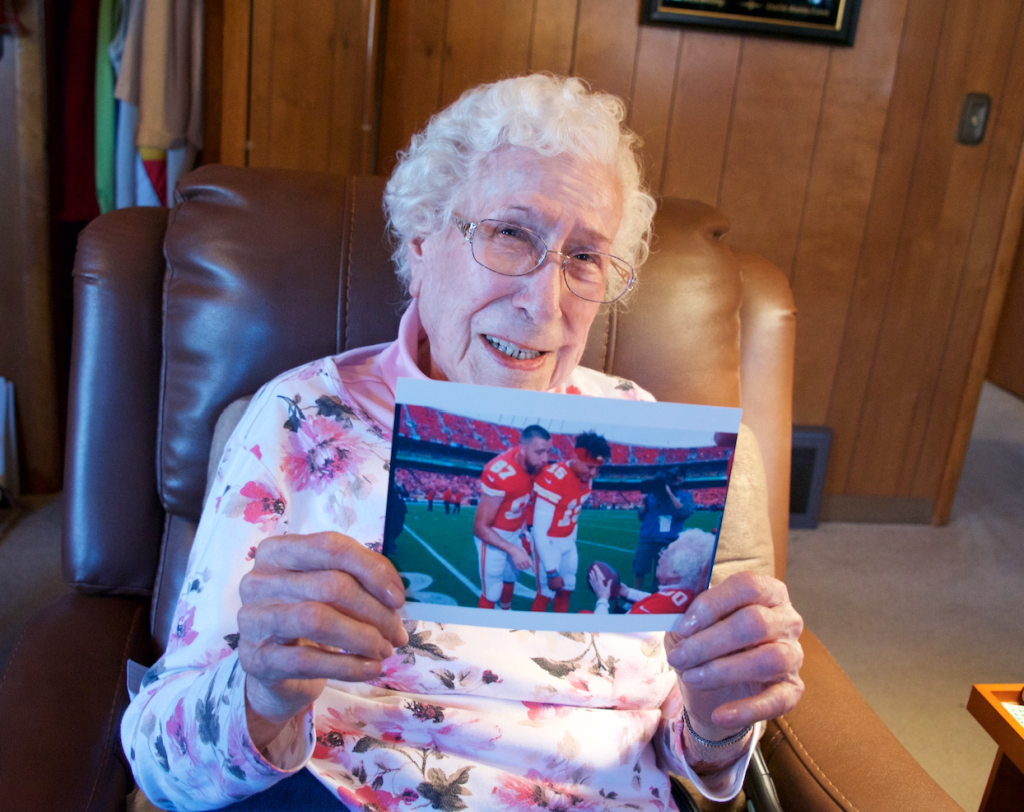 Melba was chosen as the Chiefs 100-year-old superfan in 2019 — the year the NFL celebrated its 100th season.
It also happened to be the year they won the Super Bowl, which Melba would likely credit to her role as a superfan.
Melba wasn't shy about the crush she had on Kelce and his teammate, Chiefs quarterback Patrick Mahomes, who she met that year at Arrowhead Stadium while attending her first game there.
Meeting her was one of the most hilarious, entertaining and heartwarming experiences I've had at this job.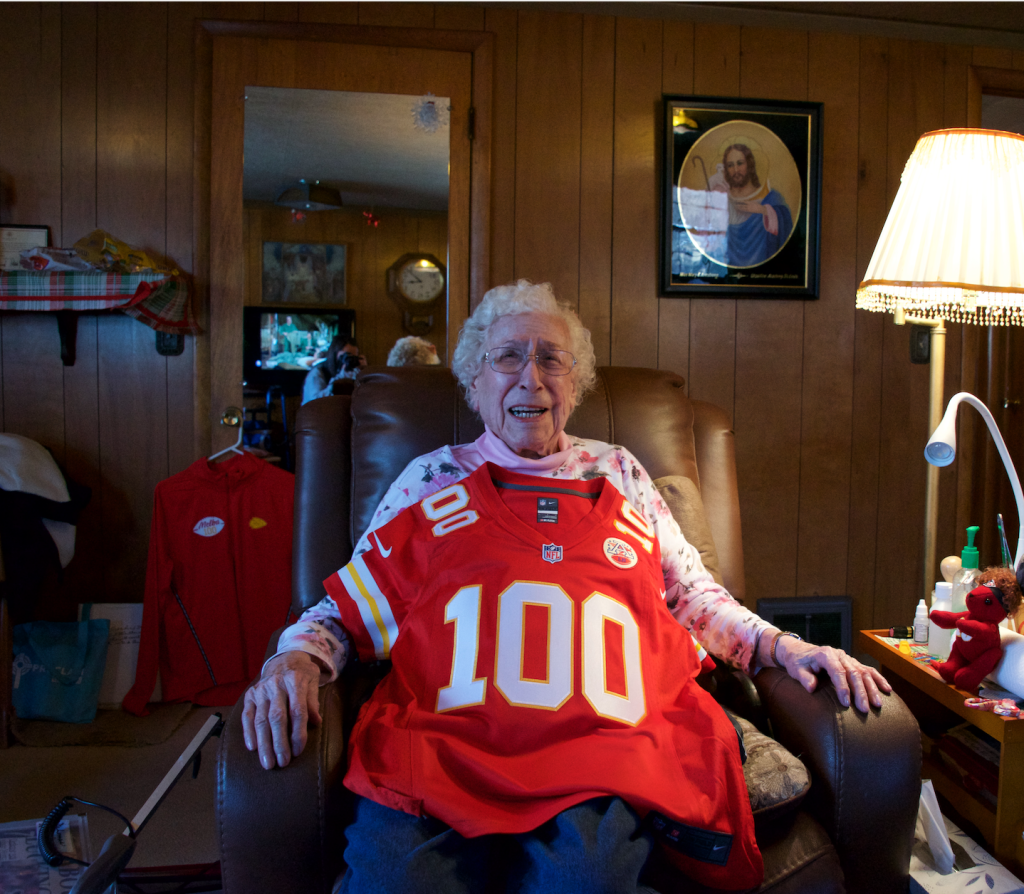 She passed away on Dec. 28, 2021, after touching countless lives with her quick wit and charming personality.
As a writer of Catholic news, it's an honor to interview people like Melba and share their stories of faith, hope and goodwill in the Archdiocese of Kansas City in Kansas.
This Catholic Press Month, I'm grateful for the sources who keep our mission alive.
Writer remembers the journey's beginning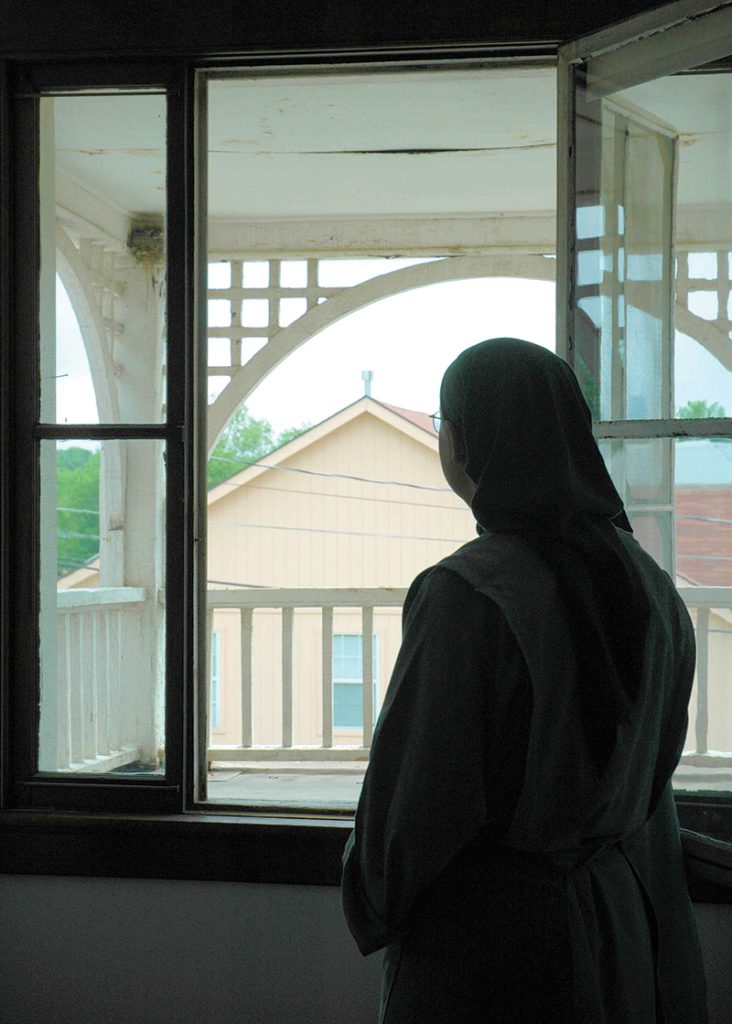 by Jill Ragar Esfeld
jill.esfeld@theleaven.org
This is the first picture I took on the day the Community of the Lamb arrived in one of the poorest areas of Kansas City, Kansas, to establish its order here.
It was in June of 2008, and this Little Sister is standing in the dilapidated former rectory of St. Benedict Church, her new home, gazing at a nest of baby robins in the eave above the balcony.
There is nothing remarkable about this photograph; but for me, it is an extraordinary image because it captures the first step on a journey of faith that has produced fruits beyond measure.
The robins are long gone now; the building is gone, too. But in its place is a sacred monastery and beautiful chapel built solely on trust in divine providence.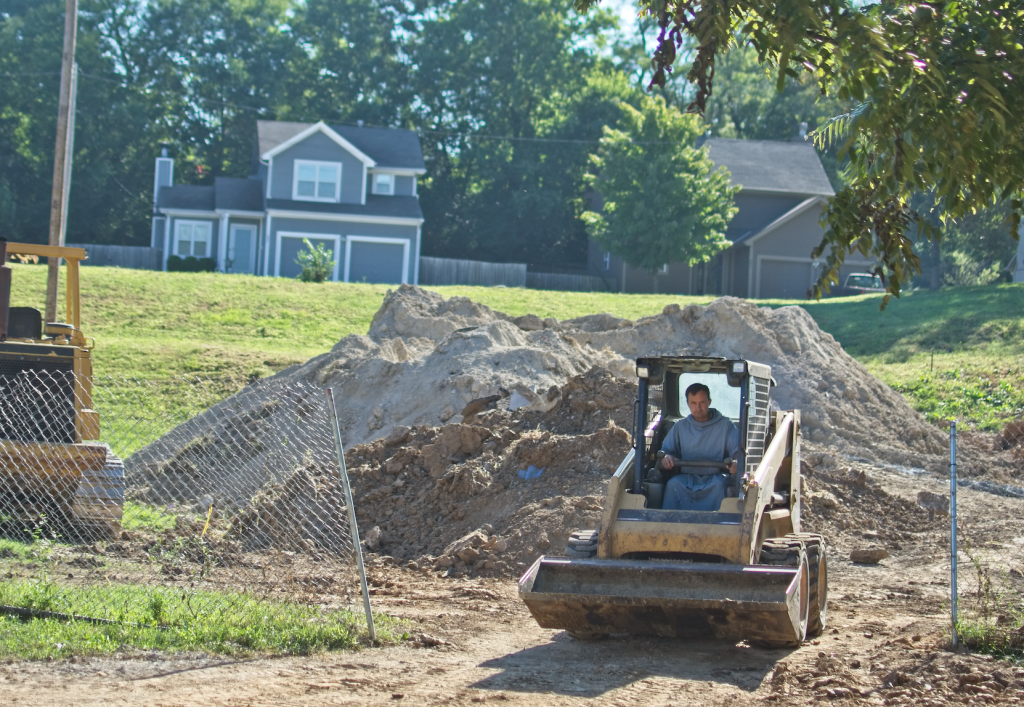 The Community of the Lamb is a mendicant order. They came here with nothing but the clothes on their backs and a mission to share the Gospel as they went begging in the streets.
I have taken hundreds of pictures of the community since that day. I've followed them through their journey of faith that has transformed this broken neighborhood into a place of welcome and love.
I've chronicled the building of two monasteries and a beautiful muraled grotto known as a place of miracles.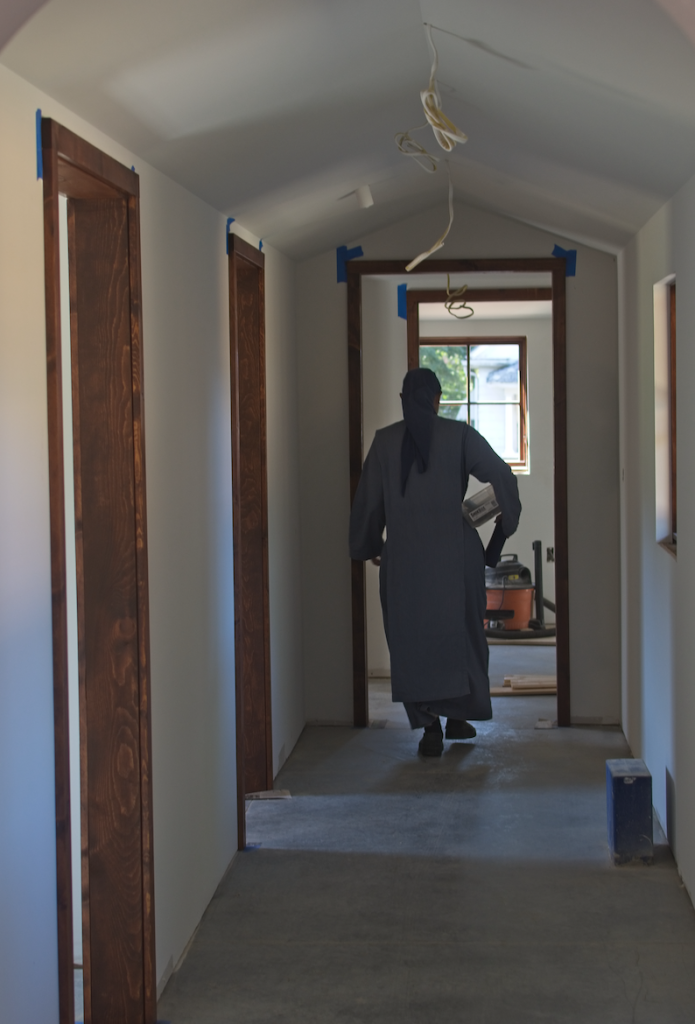 I have watched them live their motto "Wounded, I will never cease to love" and their charism of living the Gospel in community.
This photograph is a testimony to the power of love and trust in God; through him all things really are possible.
I know, because I have witnessed it.
Human trafficking story received wide circulation and led to real change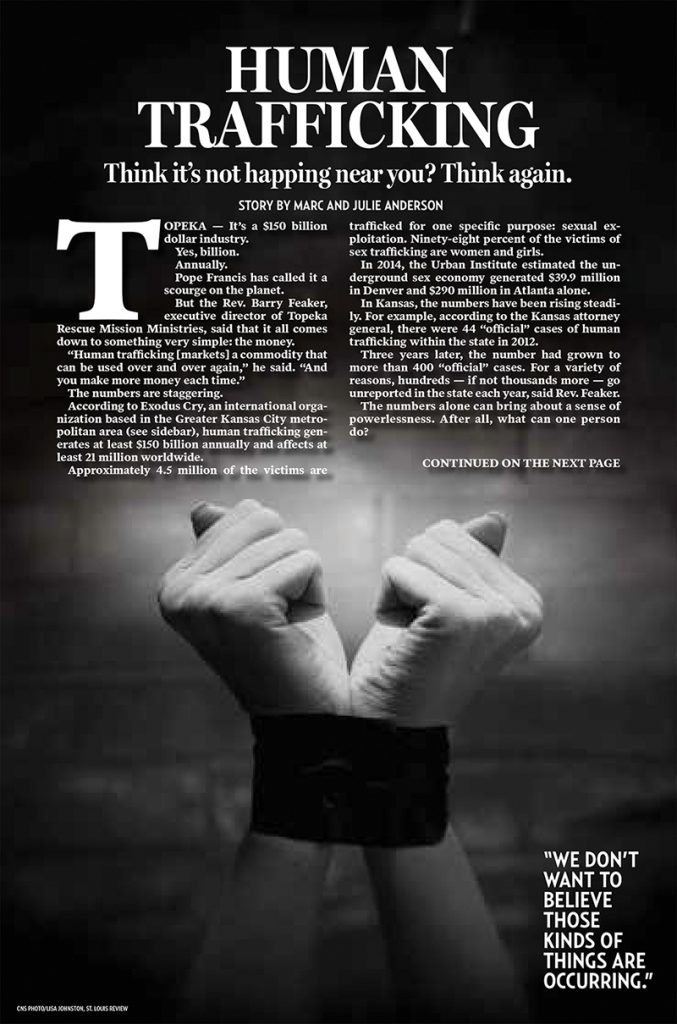 by Marc and Julie Anderson
mjanderson@theleaven.org
People often ask us about our favorite stories we've written as freelancers. That's a difficult question.
A few stand out — not necessarily because they were easy but because we learned later the story had a profound impact. Such is the case with a four-piece spread, "Think it's not happening near you? Think again."
The assignment?
Interview one of the archdiocese's permanent deacons, Deacon Brad Sloan, assigned to Mother Teresa Parish in north Topeka. Learn how his ministry intersects with that of the Topeka Rescue Mission, especially as it pertained to human trafficking.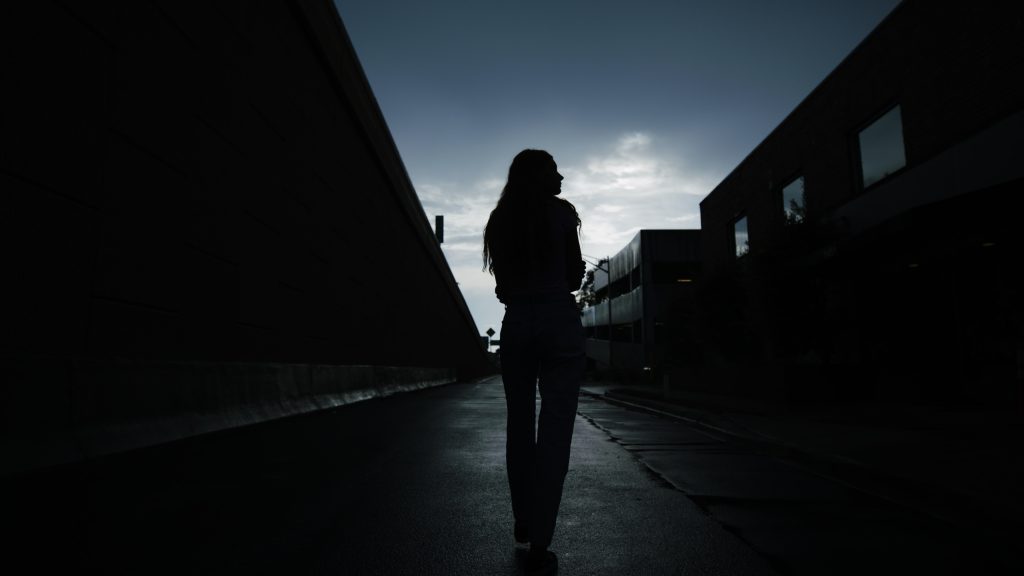 That one interview led to another and another. One interview even involved a woman who had been trafficked but wished to remain anonymous for fear her trafficker would find her again.
After the article was published, many of our sources circulated copies or online links to nonprofit organizations and government officials at the local, state and national levels. We learned later some programs were established as a direct result of those meetings.
In the end, we simply wrote a story. Our sources are heroes directly engaged in the everyday struggle. Still, we are grateful God allowed us to play a role in the fight for human dignity.
Resiliency impresses journalist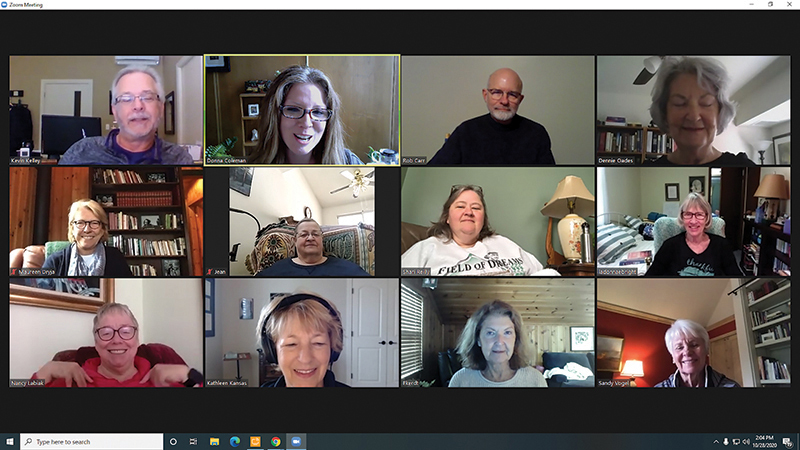 by Susan Fotovich McCabe
Leaven freelancer
When the COVID-19 shutdown occurred in early 2020, I thought of schoolchildren, employees, moviegoers and such. I never considered the impact on close-knit communities of faith, such as the Benedictine Sisters of Mount St. Scholastica in Atchison, until I reported on their experience.
I learned that the immediacy of the shutdown forced a halt to in-person, group worship; outside visitors; its hospitality programming; charitable works; and almost all human interaction. It led to isolation and the risk of illness.
We all faced that. But what inspired me was the Sisters' resiliency. I was impressed by how quickly they learned and deployed new technology — like Zoom — to restart their programs, virtually, to serve those in need, through livestreaming and audio recordings.
I walked away with the knowledge that age knows no boundaries when you are forced to learn something new. And the will to share the Gospel with others can yield miraculous results.
Article on anti-semitism reflects the mission of Catholic journalism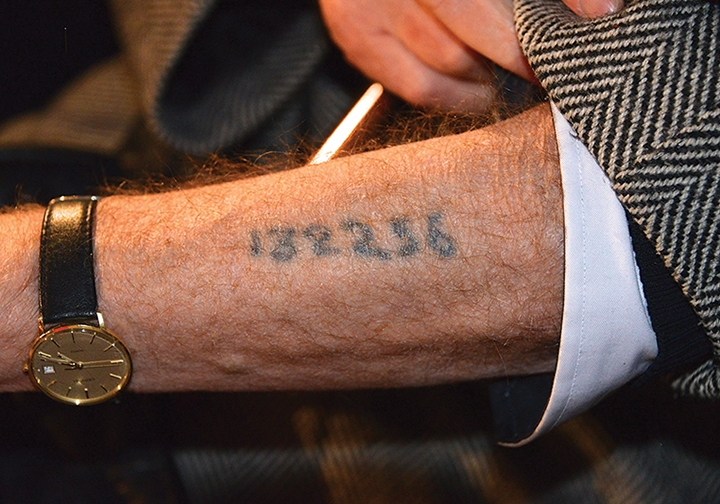 by Therese Horvat
Leaven freelancer
Writing the feature on anti-semitism (The Leaven, March 26, 2021) was a challenging, educational and gratifying experience.
The challenges came in researching and synthesizing centuries of harassment, exclusion, violence and genocide against people who are Jewish. The history of this age-old prejudice could have filled volumes, but space limitations required word restrictions. Identifying knowledgeable and reputable subject matter experts willing to address the topic took more time than usual.
Based on extensive research and interviews, I strove to relate the unfair and harsh hand dealt to Jews across centuries and continuing still today. The article referenced the Catholic Church's historic role in espousing anti-semitism and conveyed both historic and current efforts by the church and others to counter this injustice.
From his post in Philadelphia at the Institute for Jewish-Catholic Relations, my main interviewee commended The Leaven for tackling this multifaceted issue. In the Kansas City metropolitan area, a Jewish leader offered her organization as an educational resource. The local Jewish news outlet reprinted the feature and followed up with a related story.
For these reasons, this article seemed to reflect the mission of Catholic journalism: informing and educating readers to help foster transformation of minds and hearts and to encourage action.